Passive Stereoscopic 3D System (Glasses and Projection Filters)
Omega's 3D passive stereoscopic system is designed to work with your dual projectors to deliver unsurpassed color and depth definition to both eyes. Omega's Passive Stereoscopic 3D Systems is ideal for:
Virtual Reality Simulation
Video Gaming
Home Theatre
Cinemas
Biomedical Imaging
Architectural Modeling

Our 3D system is based on a new approach. The 3D glasses and projection filters have complex multilayer thin film optical coatings that divide the visible spectrum into two distinct white light sources that do not need color correction. Omega Optical utilizes optical comb filter technology to split the entire visible spectrum into two discrete full color images. Each eye receives full color and equal energy. Very high extinction ratios are achieved, even when viewing the screen from extreme angles.
Omega's 3D glasses and projection filters provide you with a clear bright 3D image that rivals any of the other systems in the market.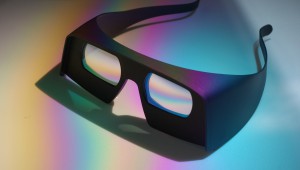 Advantages
Front and Rear Projection
Suitable for All Screen Types
Color Correction Not Needed
Ghosting and Flicker Free
Frame Fits over Prescription Glasses

If you are interested in purchasing our 3D system, please contact us.
A demonstration of our system can be found on YouTube. View it here.
3D Frequently Asked Questions
What type of screen do I need? Our system allows using any type of screen.
How do Omega's projection filters work when watching 2D content? Do I need to remove them? You do not need to adjust projectors between 2D and 3D. Our filters work perfectly with 2D content. You may leave our projection filters on your dual stack. You don't need to change your image alignment.
Do you have a list of recommended projectors?  It is up to customers what type of projector they want to use. However, the ideal type of projector is a DLP projector designed for home theaters, or a DLP projector designed for business and conference rooms.
Do you have any accessories for mounting the filters in front of the projectors? The projection filters come in a mounting frame. We do not have any mounts, as every installation is custom. We provide guidance for mounting the projection filters, but we do not do the installations of the system.
Does your system cause headaches? Will my eyes hurt?  Our glasses and projection filters do not cause headaches and eyestrain, usually caused by flicker from shutter glasses. Pain is eliminated as both eyes see continuous full spectrum images.
Do I need a color correction server?  No, you don't need a color correction server, as both of your eyes see white light with our system.
Will I see ghosts? The extinction levels of our system are 1000:1, which means no ghosting is visible.
I want to buy 100 pairs of glasses for my private mini-cinema. How do I clean them easily?  Our glasses are made from scratch-resistant glass. They can be sanitized in either a regular dishwasher or a commercial type dishwasher. If your water is harder, we recommend using a water softener. They can also be cleaned with disinfectant wipes for eyeglasses.