Omega Optical has been at the forefront of many exciting advances since Bob Johnson founded the company in 1969. We at Omega are proud to introduce another innovation - a new way to specify a desired spectral function and generate a rapid proposal, using your mobile device!
OMEGA INTRODUCES A FILTER DESIGN APP FOR ANDROID MOBILE DEVICES
Omega SpectDraw™ is an App for Android phones and tablets that allows you to draw a spectral transmission curve on the screen of your device, and send that curve and associated specifications to Omega for a quote. This is the first filter design App of its kind. SpectDraw™ was designed and developed by Will Morrison of Omega's IT group.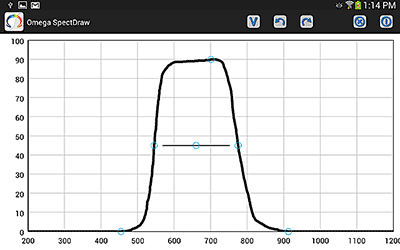 Omega SpectDraw™ is available to download on the Google Play Store today. We invite you to download it for free, and to contact us with your comments.