The History of Our R&D Team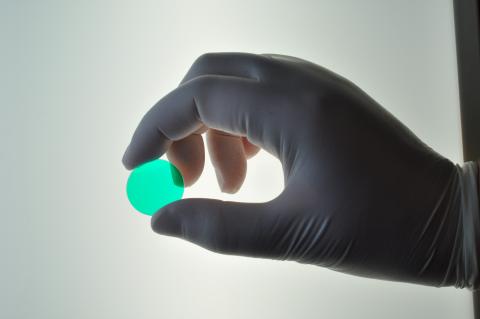 Bob Johnson, Omega's founder, has always been an innovator at heart. He's pioneered many thin-film design strategies over the past fifty+ years. While the company has always valued research and innovation, a formal R&D department didn't exist at Omega until 2009. It was established that year thanks to Dr. Gary Carver, who joined the team in 2008 after working in New Jersey for AT&T Bell Labs and its derivatives for 28 years.
Gary Carver's Immediate Impact on Omega Optical 
Before joining Omega, Gary and his colleagues had designed and constructed a novel multispectral scanning system based on serial arrays of optical fibers containing fiber Bragg gratings. The National Institutes of Health had planned to fund this project with SBIR phase I and II grants aimed at distinguishing healthy and diseased tissue. At that time, Gary worked for a small business supported by venture capital and learned that the company was not eligible for SBIR funds. He had grown up in western Massachusetts and began searching for a good match back in New England. He found that Omega Optical was already selling filters into the biomedical industry, and contacted Bob Johnson. Bob readily agreed to buy out Gary's lab, and accept the SBIR funding. Once at Omega, Gary realized that coated fiber tips could replace the fiber Bragg gratings leading to a more manufacturable design. This approach has been patented and is the subject of several publications. Meanwhile, Bob embraced the idea of coating fiber tips with Omega's filters. Since the SBIR effort in the early 2010s, the R&D group has deposited many band pass, long pass, short pass, and partial reflector designs on fibers for a variety of customers. Our customers use these coated fiber tips in products such as fiber lasers, fiber interferometers, fiber spectrometers, fiberized Raman probes, fiber pigtailed detectors for LIDAR, and even high magnetic field fiber sensors.
An Interest in Solar Energy Inspires a New Department  
But Bob had other plans for the R&D group. Back in the 70s, Bob had been very interested in solar energy. He had developed an all-solar car called the MHO (ohm backwards), and was looking for a way to get back into clean energy. He expressed this interest to Gary and was delighted to learn that Gary shared his passion and had worked on thin-film solar projects in graduate school during the late 70s. The two quickly decided to leverage Omega's thin film expertise for the development of third-generation solar cells. With support from both the NIH and the Department of Energy, the R&D group grew by adding expertise in chemistry, electrical engineering, and computer science. The group demonstrated organic photovoltaic cells with moderate efficiency. These cells required transparent conductive thin films such an Indium-tin-oxide (ITO). Bob had used ITO previously for heated aircraft windows and embraced the idea of selling custom ITO coatings. The R&D group has subsequently deposited several versions of ITO for a diverse set of customers. Our customers use ITO for broadband short pass filters, hot mirrors, 3D printing, and even quantum computing.
The multispectral imaging and solar cell projects enabled the creation of Omega's R&D group. During the last few years, the group has established collaborations with the University of Vermont for both the scanning of human tissue and the development of perovskite based solar cells. These disparate projects are both enabled by thin film optics. Beyond new products such as the coated fiber tips and ITO coatings, the group develops new materials such as hydrogenated silicon and antimony selenide for advanced filters. In addition, the group supports Omega in the areas of optical testing, yield improvement, and business development. With Omega's recent acquisition by Artemis Capital Partners, the R&D group expects to further evolve to meet the needs of the business. Want to learn more about our R&D group? Check out the page linked in the sidebar or contact us today!
By
Sarah Locknar, Gary Carver