Omega Optical designs and manufactures custom filters and standard prescription filters to the highest imaging quality standards for astronomers, atmospheric scientists, and aerospace instrumentation companies worldwide. Applications include both terrestrial and space-based observational instruments. We have supplied projects and programs for a wide variety of prestigious universities, observatories, government agencies, and international consortia. As instrument technologies and applications evolve, we work collaboratively with customers to develop solutions for the spectral, optical, and environmental demands that will define observational astronomy and aerospace applications in the future.
High Spectral Performance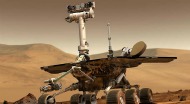 We provide interference passband filters with peak wavelengths located from the UV to the mid-IR and with bandwidths ranging from 0.15nm to several hundred nanometers wide. Our filters meet demanding throughput and bandshape requirements while adhering to very close tolerances on bandwidth and peak transmission wavelength. Many of our filters are designed for high attenuation of adjacent emission lines. Our coating processes assure uniformity of spectral performance over the physical area of large filters.
High Optical Performance
Our filters are made to rigorous imaging requirements. We start by polishing optical glasses to requisite flatness and wedge values prior to coating and assembly. We evaluate wavefront properties using a Shack-Hartmann wavefront sensor, Zygo Interferometer and/or the Broadband Achromatic Twyman-Green interferometer, when needed. Durable anti-reflective coatings are deposited as needed to increase transmission and reduce ghosting.
Physical Attributes
Many of our astronomy filters are made in sets or as supplements to existing sets. Each filter is designed to match the others in attributes such as optical thickness, bandshape, throughput, attenuation, sensitivity to system focal ratio, sensitivity to temperature, and imaging quality. Continuum filter sets are made with precise matching of the cut-on and cut-off wavelengths of spectrally adjacent filters. Space-based application filters are manufactured using "space-flight compatible" materials.
Custom Filters & Sets
Many astronomy imaging applications require the custom design and manufacture of filters and filter sets. With more than twenty vacuum deposition systems—including IAD, electron beam, plasma assisted reactive magnetron sputtering (PARMS) and multi-planet coating technologies—we are able to produce filters of extreme uniformity and precision in quantities of handfuls to thousands according to the following general specifications:
Wavelength Range: UV to mid IR
Bandwidths: 0.15 nm to several hundred nm
Tolerances: Critical throughput, bandshape and bandwidth requirements
Sets: Matching physical and optical performance attributes
Materials: Space-flight compatible
Narrow-band Filters
Our narrow-band filters are highly effective at isolating monochromatic emission and absorption lines, featuring high throughput, deep out-of-band attenuation, and close control of center wavelength. The performance of narrow-band filters is critically dependent upon AOI and operating temperature. Much care and attention is given to the design, manufacture, and measurement of these filters to assure that peak performance is reached at the designated system and operating environment.
Large Format Filters
Along with our partner, EMF, we continue to support the needs of the astronomy community for large-aperture filters and mirrors. Omega produces high-complexity interference filters up to 200 mm in diameter, while EMF tackles even larger substrates (over 2 meters in diameter) with medium-complexity filters and mirror coatings, including Rhodium mirrors for the ultimate in durablility. 
Case study-
Custom SDSS Photometric Filter Sets

The Sloan Digital Sky Survey (SDSS), which began in 1996, defined a photometric system to be used for the observation of secondary stars. The system is comprised of five color bands (u, g, r, i, z), which divide the spectrum from the UV (300nm) to the limits of CCD detection (1100nm) into five non-overlapping pass bands.

The SDSS system is the most popular photometric system currently in use. Its usefulness is a result of the fact that the Hubble Space Telescope is equipped with an SDSS set, which continues to provides the astronomical community with a large library of images that are used as a reference standard for additional observation. Omega has manufactured a wide variety of SDSS sets to the custom specifications required by individual observational instruments and experiments. All filters in a set are made to identical physical and imaging quality specifications.

Additional Information
Download our astronomy flyer