Bandpass filters (also called band pass filters, BP filters or band-pass filters) have been a mainstay of Omega's business since the early days when we produced some of the first bandpass filters for supermarket scanners back in the mid-1970s. They are designed to have high transmission over a certain wavelength range while blocking light from other wavelengths to provide good signal-to-noise in the transmitting region. 
View Bandpass Filters
Jump to-
Peak Transmission is the maximum transmission of the filter (%).
Center Wavelength (CWL) is the midpoint of the transmitting region (nm).
Full-width half-max (FWHM) describes the width of the transmitting region at half of the maximum transmission value (nm). Because of the physics of thin-film interference filters, FWHM generally increases with wavelength. It can be calculated using a percentage of the center wavelength.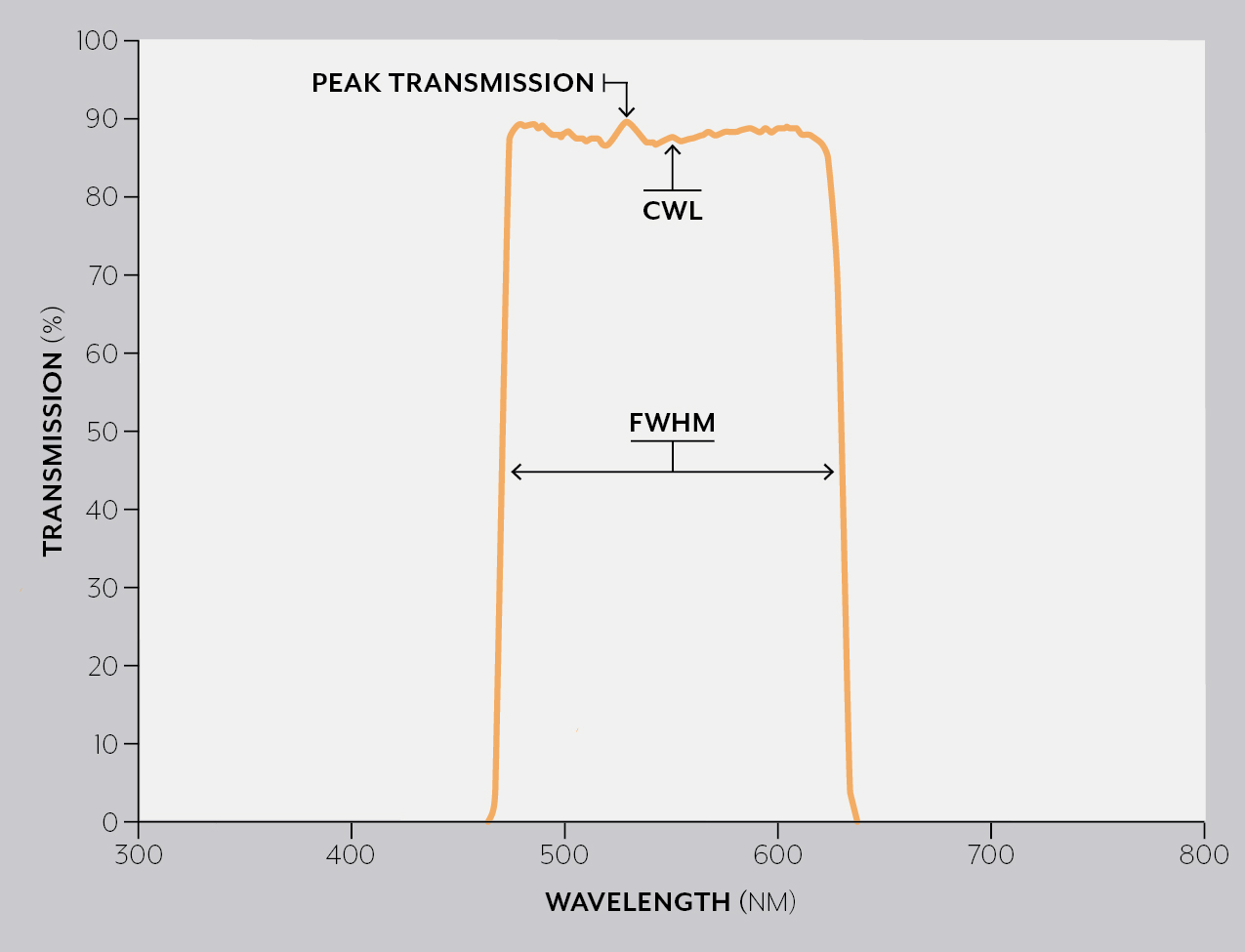 Cut-on and Cut-off wavelengths can be used instead of FWHM and CWL to designate the edges of the filter's transmitting region (nm).
Pass band ripple describes the flatness of the transmitting region (%). Some narrow bandpass filters and older designs have a peaked pass band shape instead of a flat top. This depends on filter design. Typically flat-top designs require more layers and greater cost.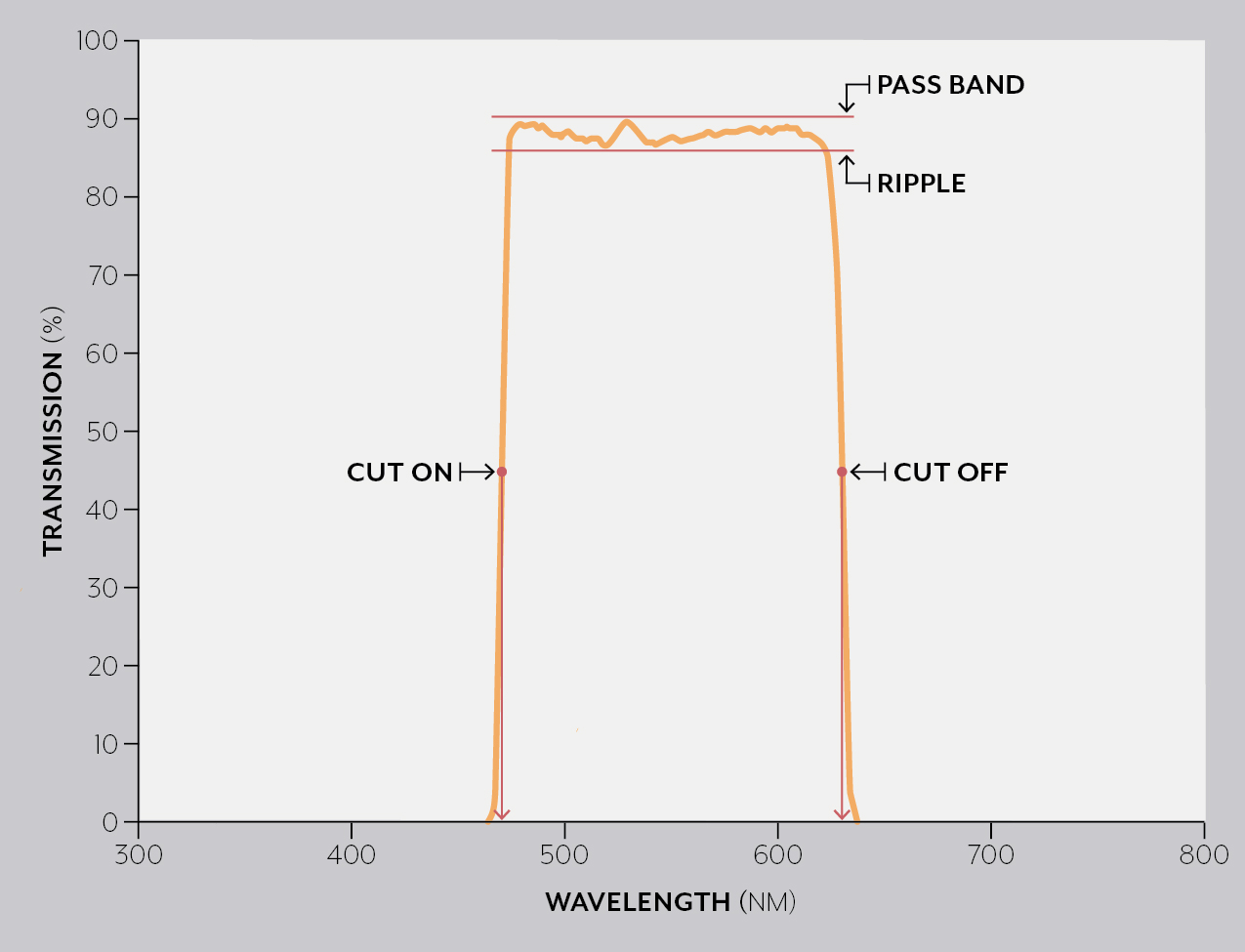 Edge Steepness describes the transition from blocking to transmission in more detail (nm).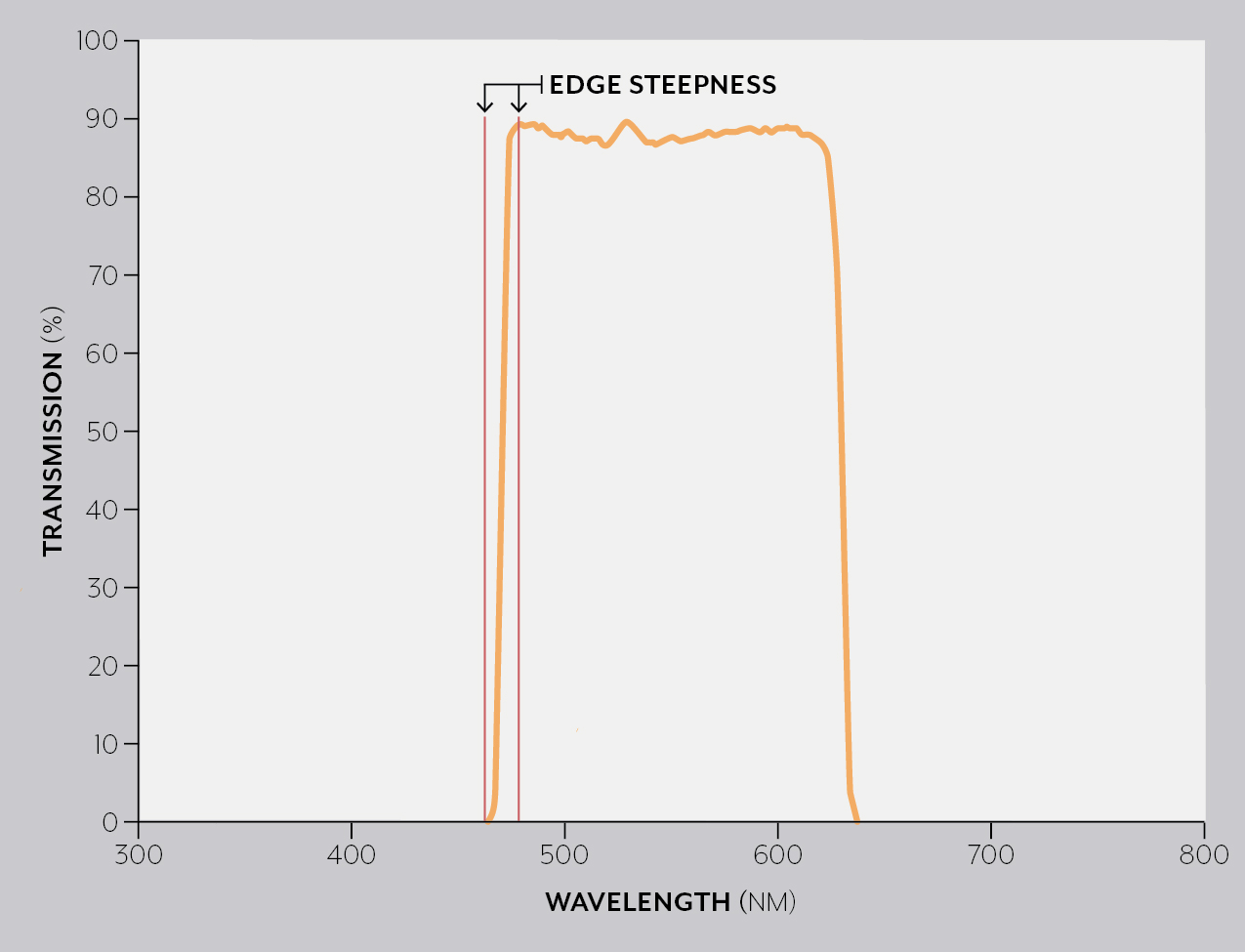 Blocking specifications determine the wavelength range (nm) and blocking (OD) of unwanted light. Typically the wavelength range is dictated by the response curve of your detector. However, extended blocking is not required for some applications (for example laser-cleanup or Raman filters) where unwanted signals are only present in a limited wavelength range. Optical density (OD) is a log scale relating the transmitted to incident light. 
OD=2-log(%T)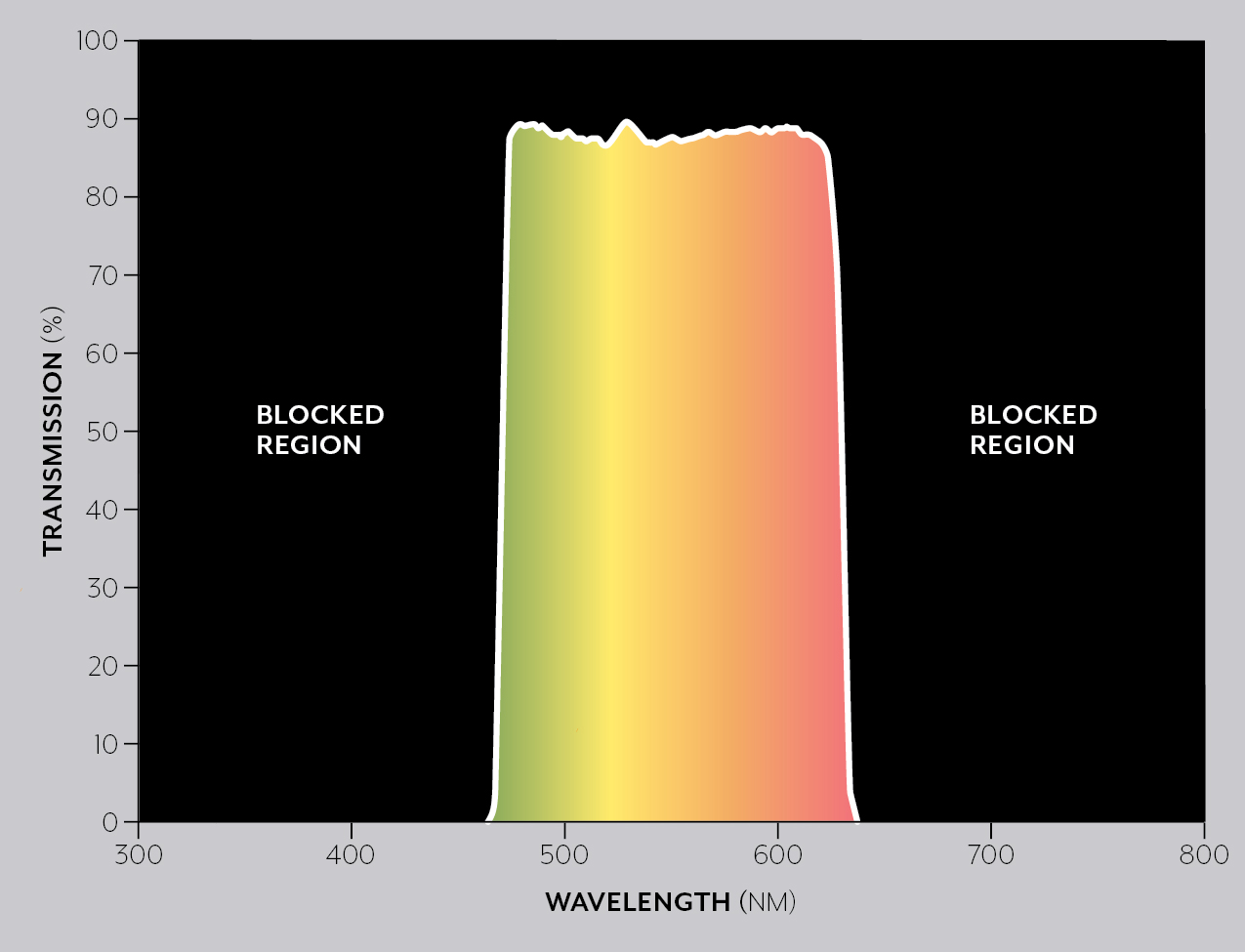 Standard Bandpass

The bulk of Omega's business relies on bandpass filters in the 400-1100 nm range. 
FWHM starting at 10 nm
Size 2-90 mm 

Rapidband filters are comprised of shortpass and longpass filters pressed into an air-spaced assembly for a fast and cost-effective solution.
Available in visible wavelengths (10 nm apart) between 400 and 700 nm. Selected other wavelengths are also available.
Size 25 mm rounds, ring-mounted.
Designed to fit most fluorescence microscope cubes.

Multiband filters

Multiband filters have a series of transmission bands and blocked regions. They are used for visualization of multiple colors at once, for beam combining, 3-D motion pictures, and correction of color-blindness.
Size 2-50 mm

Narrowband

Often used in highly multiplexed experiments (flow cytometry, fluorescence in-situ hybridization, etc) to reduce spectral cross-talk between signals. Also used as laser or LED cleanup filters.
FWHM 1-10 nm 
Size 2-50 mm

Flat-top Narrowband

Customers who are concerned about spectral drift due to temperature cycling or laser wavelength instability require a narrow-bandpass with low pass band ripple so the signal will not change in intensity as it shifts in wavelength. This is a common concern in LiDAR applications where the device must operate in an outdoor environment (roughly an 80 degree Celcius range). Flat tops can also be used to mitigate angle-of-incidence effects in your system. 
FWHM 1-10 nm
Steep edges
Pass band ripple <5%
Size 2-30 mm

UV filters

The manufacture of UV filters poses a unique set of challenges. Click here to learn more.
Wavelengths 175-400 nm
Omega has produced limited quantities of these specialty bandpass filters for individual customers. We welcome the opportunity to work with you on your product.
Ultra narrowband filters

Omega has been producing small quantities of ultra narrowband (sub-nm FWHM) for many years for Astronomy applications (i.e. Hydrogen-alpha filters) in the visible wavelengths.
We are expanding into longer wavelengths using more durable sputtered oxide coatings. These are used in applications such as free-space optical communications. This work has been presented at Photonics West.

Linear Variable filters

 

Download the LVF flyer

 

Linear variable filters are bandpass filters that change center wavelength across one dimension of the part. They can be used as rudimentary spectrometers or in order-sorting applications. The spectral properties of the bandpass must be specified as described above as well as the gradient (nm/mm) across the part. Omega has achieved gradients of up to 50 nm/mm across the visible spectrum using custom coating techniques.
This work has been presented at Photonics West

Patterned filters

 

             

Patterned filters are produced by dicing filters into small pieces and reassembling them on a backing glass with optical epoxy, depositing through metal masks, or with photolithographic methods.
Omega is a subcontractor on a project that involves patterned coatings on the tips of fiber optics. Read our recent Photonics West paper. 

Coated fiber tips

Omega is an expert at applying bandpass filters to the tips of optical fibers. 
Hard oxide and soft-coating designs are available.