UV FILTERS
Working in the UV (less than about 400 nm) is a challenge for filter manufacturers, because many of the commonly used materials begin to absorb light at these wavelengths. Another challenge for the short pass and bandpass filters is wide-wavelength blocking. Simple filter designs only have blocking up to ~20% of the center wavelength - more extensive blocking can be accomplished by adding a metal layer which significantly reduces the %T in the transmitting region, adding a colored glass absorbing filter, or by adding dielectric layers (for instance adding a short-pass filter design to the other side of the substrate).
Common materials used for ultraviolet dielectric thin-film coatings

| Common Name | Chemical Formula | Wavelength cutoff (nm) |
| --- | --- | --- |
| Silica | SiO2 | 180 |
| Alumina/ sapphire | Al2O3 | 200 |
| Hafnia | HfO2 | 240 |
| Zirconia | ZrO2 | 270 |
| Magnesium Fluoride | MgF2 | 140 |
| Aluminum Fluoride | AlF3 | 150 |
| Lanthanum Fluoride | LaF3 | 170 |
| Yttrium Fluoride | YF3 | 200 |
UV REJECTION BAND (NOTCH) FILTERS
Notch filters are designed to reject specific wavelengths so the absorption properties of the materials are less important for these designs and can be useful in some respects. These can be designed to work at angle (below is an example designed to work at 45 deg) for combined steering and wavelength management or at normal incidence.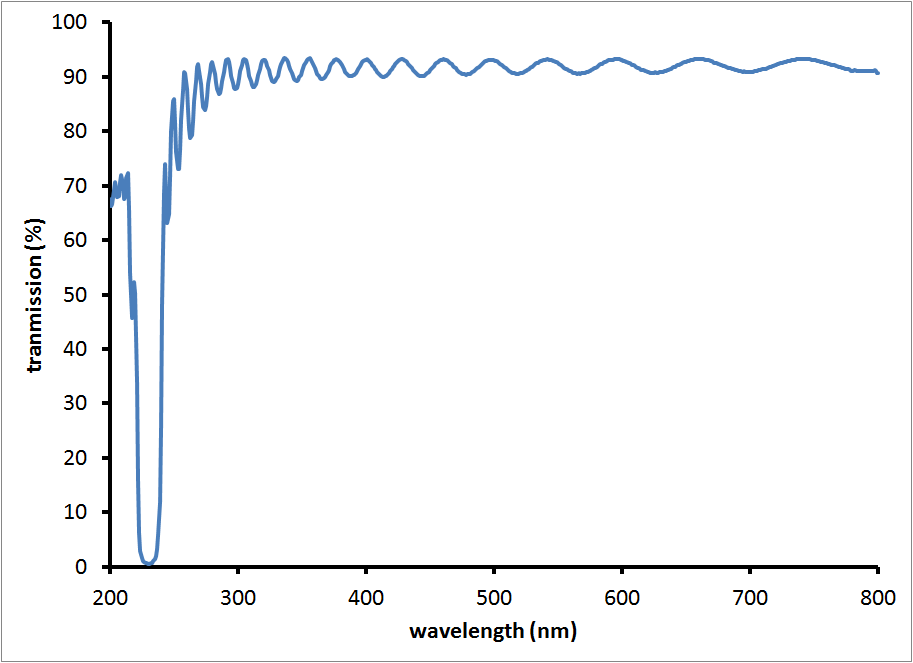 Applications of UV Notch Filters
laser rejection
Mercury lamp line rejection
UV BANDPASS FILTERS
The traditional design of bandpass filters in the UV involves induced transparency in a metal (usually Al or Ag). These filters comprise of only a handful of layers and providing high blocking over the entire visible wavelength range. The disadvantages include low transmission (often under 20%) and spectral edges that are not very steep.
Sputtered or ion-assisted PVD oxide-based designs can transmit over 80% down to about 250 nm and fluoride-based designs can transmit even lower. Below about 200 nm, measurements become difficult as atmospheric molecules begin to absorb. Special equipment is required to make measurements at very low wavelengths. The difficulty in producing high-quality UV bandpass filters is typically in trying to block the full visible range. The wider the blocking range, the thicker the thin-film stack and the more expensive the filter will be. Sometimes, absorption glass can be used for visible light blocking for bandpasses above about 250 nm without substantially influencing the transmission performance.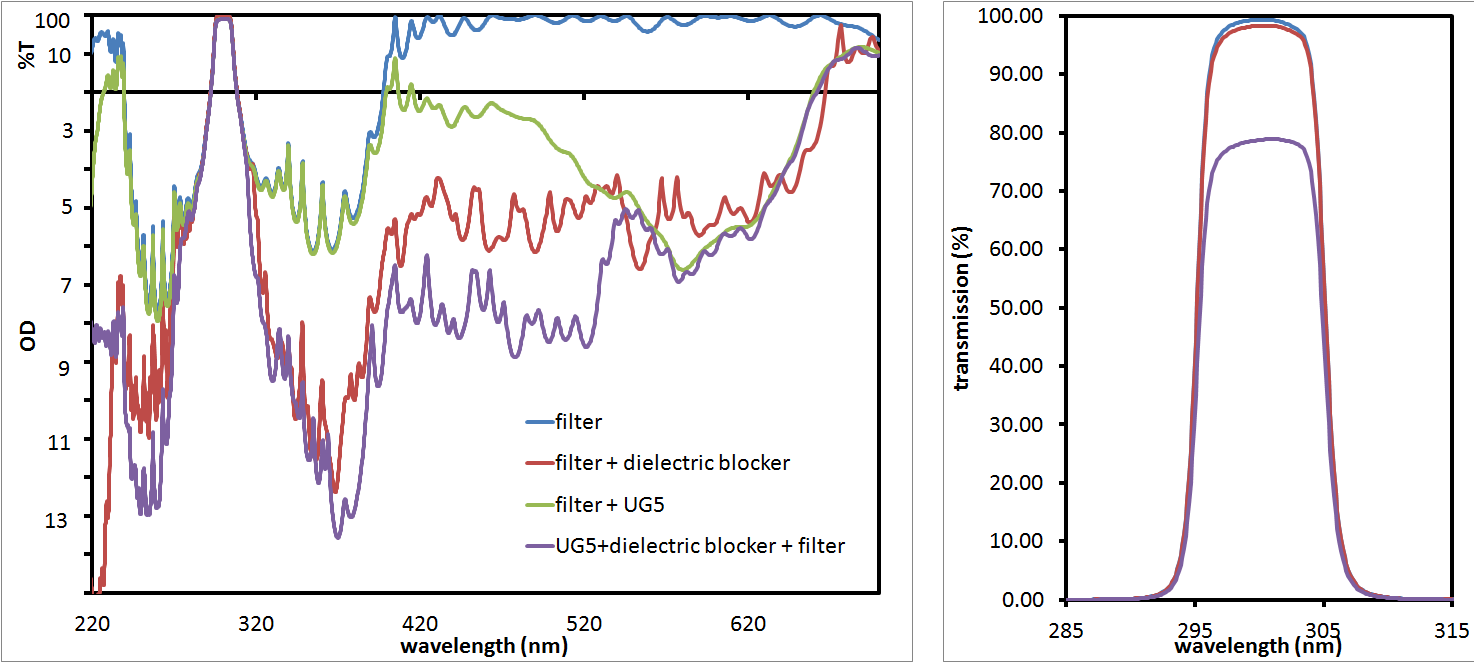 In some cases, it is easier to design a reflective filter in the UV, which in transmission looks like a notch (or rejection band) filter, but when used in a reflective assembly as shown below, can attain high effective transmission over a narrow wavelength range. In these designs, the blocking OD is additive as the number of bounces increases, while the effect on %T is small.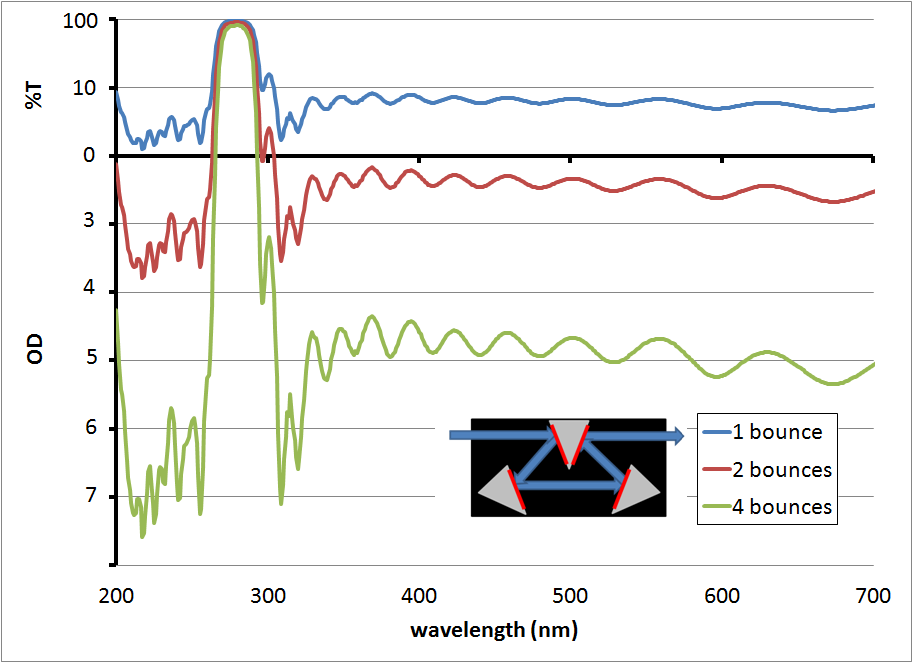 Applications of UV Bandpass Filters
Astronomy

Calcium II K-line (393.4nm) narrow band

other

Biomedical applications

260/ 280 DNA ratio

Flow cytometry (375, 355, 320 nm lasers- scatter channels or laser cleanup)

Fluorescence imaging

Intrinsic chromophores (tryptophan, etc)

Calcium imaging (indo)

other

Photolithography
UV LONGPASS FILTERS
UV absorption can be an advantage in designing UV Long Pass filters because some of the OD blocking can be provided by absorption rather than reflection. Sharp cut-on edges can be optimized using traditional interference design techniques.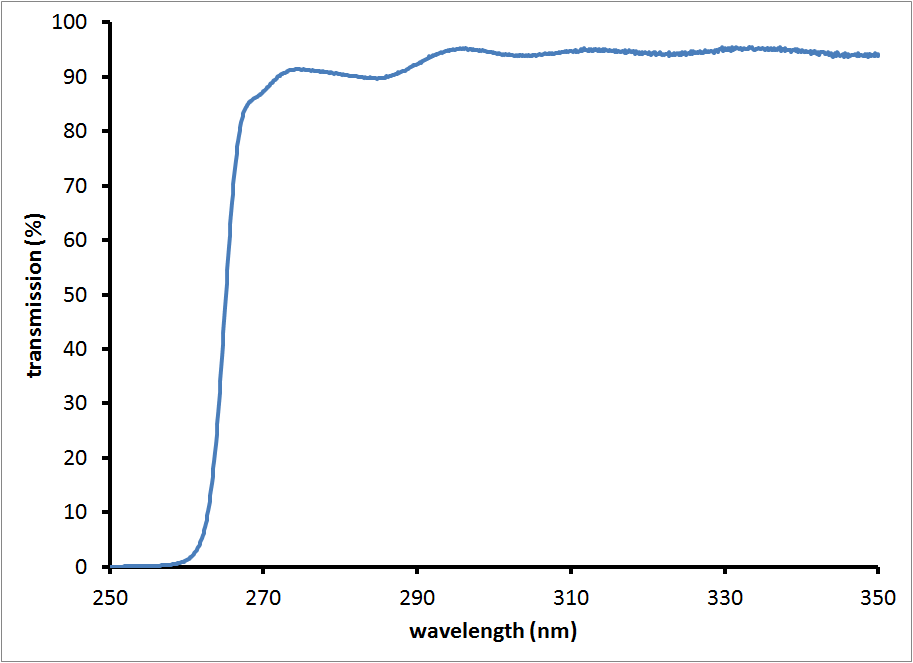 Applications for UV Longpass Filters
Minimize UV damage

Plastics become yellow and brittle over time if not protected

DNA – maximum damage occurs at 265 nm

Fluorescence – emission filters and dichroic filters
UV SHORTPASS FILTERS
The minimum specified wavelength dictates whether oxide or fluoride materials are used for these filters. As in the UV band pass filters, blocking of all visible wavelengths increases the complexity and cost of the filters. In the sputtered oxide filter below, the short wavelength edge (at about 280 nm is due to absorption of the coating materials).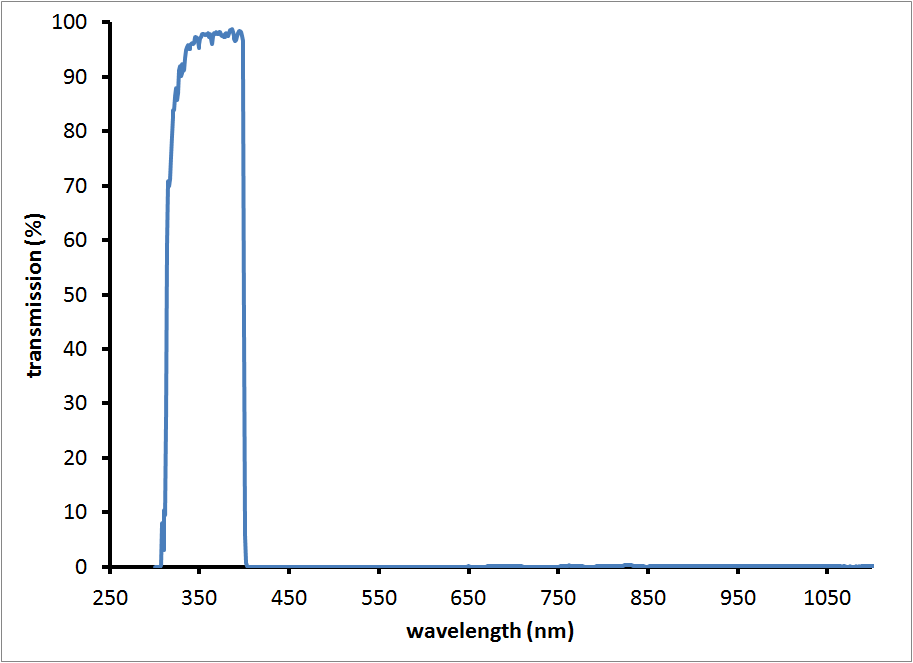 Below is a theoretical design of a reflecting shortpass assembly containing 2 filter elements arranged with a 22.5 deg AOI. Note that this curve does not account for light scattering that occurs at low wavelengths.