Transparent conductive oxides offer a combination of visible transmission, infrared reflectance, and electrical conductivity. The figures below show two examples for indium tin oxide (ITO). The top figure shows the optical properties of highly conductive ITO, while the bottom figure shows the properties of less conductive ITO. The R&T curves and the electronic work function change as the alloy composition is varied.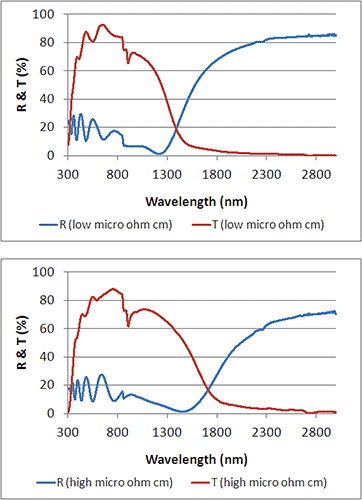 Omega deposits TCOs by co-sputtering the constituent materials. Examples include indium oxide with tin oxide, and zinc oxide with zinc fluoride.
Custom sizes are available
Thickness as specified

Applications for Transparent Conductive Oxides
Photovoltaics
Displays
SERs Substrates
Electrostatic Control
RF Shielding
Heated Windows
Download the flyer here.