Omega Optical specializes in custom filters for your unique PCR instrument design.
Polymerase Chain Reaction (PCR) and Reverse-Transcriptase PCR (RT-PCR) are DNA-amplification methods used in a large number of markets, including
Healthcare - disease detection, cancer genotyping
Defense - biological warfare detection
Forensics - crime scene analysis
Food systems - bacterial contamination
Contact us to learn more!
PCR works by an amplification process- as each round of replication progresses, the amount of DNA increases by a factor of 2. This rapidly increases the amount of DNA in the sample. By using primers that are specific to the sequence of interest (small DNA molecules that tell an enzyme where to start replicating), only one particular DNA sequence is amplified. 
Fluorescence probes are used to determine how much relevant DNA is in the sample.
Fluorescence intensity is proportional to the amount of the specific DNA sequence in the sample.
Fluorescent moieties are attached to short, single-stranded DNA probes that bind to specific sequences in the DNA sample.
Fluorescence can be turned on or off depending on whether the fluorescence probe is bound to the DNA.
Nearly all fluorescence systems consist of 3 major components- an excitation light source (lamp, LED or laser), filters (to clean up the excitation wavelengths and select the emission wavelengths) and a detector. 
Contact us to learn more!
Omega provides custom solutions for your system-
Custom Excitation Filters for PCR
Different light sources (lasers, LEDs and broadband light sources) require different specifications for the best performance. Stock filters don't provide any customization.
In this example we compare the performance of a stock filter (in grey) and a custom filter (blue) with an LED light source (red). Signal-to-noise is >30% higher for the custom filter.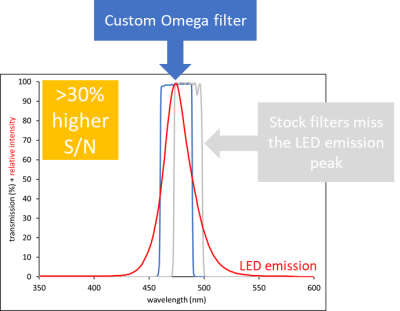 Below we see 3 variations on a theme for both FAM and ROX (two common fluorescent dyes used in PCR applications). The insets show a closeup of the bandpasses with an overlay of the excitation spectrum. The orange traces are the stock EX filters. These were designed to be used with a broadband light source, such as a xenon arc lamp. The customer in blue was using LED light sources, so extended blocking was not required. The customer in green was designing a 5-channel instrument with a broadband light source, so the edges had to be extremely steep and there needed to be significant blocking between the fluorescence channels.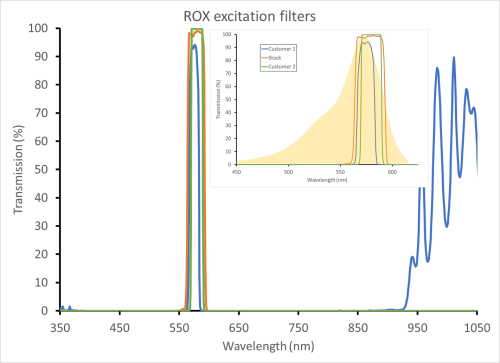 Contact us to learn more!
Custom Dichroics for PCR 
Depending on the geometry of your PCR optical system, you may or may not need a dichroic filter. This special type of mirror reflects some wavelengths and transmits other wavelengths. Below are three examples of dichroics for FAM and ROX. These are designed to work with the excitation and emission filters for light steerage. They are typically only specified to steer (either reflect or transmit) in the ranges of the excitation and emission bandpass filters. Although they do contribute to the blocking of out-of-band wavelengths, this is not their primary purpose.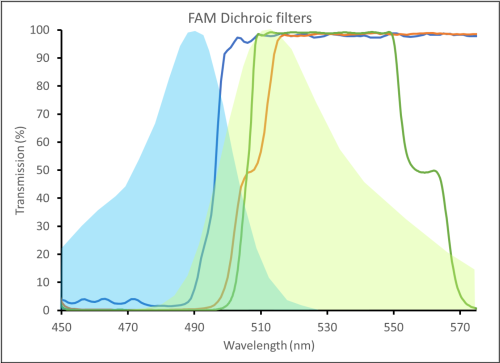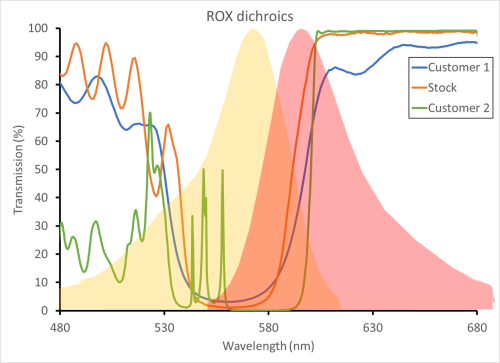 Contact us to learn more!
Custom Emission Filters for PCR
Similar to the excitation filters, the emission filter blocking range depends on whether a broadband (i.e. arc-lamp) or discrete (i.e. LED) is being used. Another factor for emission filters is how many fluorophores (channels) are in the system. The greater the number of channels, the narrower the bandpass and the steeper the edges of the bandpass need to be. The number of channels also dictates how far the blocking needs to be. If there is no emission at a particular wavelength, blocking isn't required at that wavelength for good performance.
The customer in green had 5 channels so the emission filters are narrower and steeper than in the other examples. They also block farther into the NIR for maximal signal to noise. The customer in blue, with only 2 channels, did not need extended blocking and could use slightly wider bandpasses.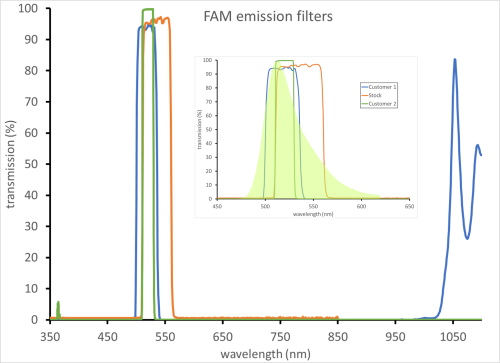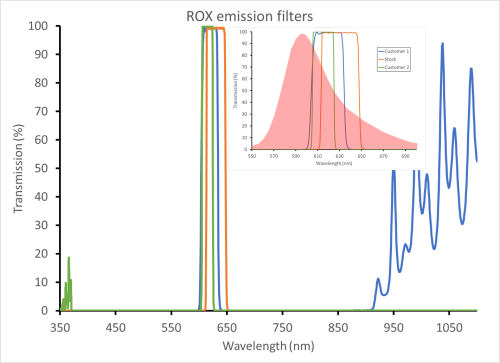 Customize your PCR filters considering geometry, excitation source, number of channels and detector. Don't pay for specifications you don't need!
Contact us to learn more!