Used in beam steering, wavelength splitting and combining, Dichroics, Beamsplitters and Mirrors share some common characteristics. 
They often have high reflection at some or many wavelengths
They often have high transmission at other wavelengths
They are often used at non-zero angles of incidence (AOI)
Omega makes high quality interference dichroics, beamsplitters and mirrors as well as traditional protected metallic mirrors. 
Jump to-
%T, %R and wavelength range - Since Omega makes filters largely from non-absorbing materials (dielectrics), light that is not transmitted is generally reflected, so %T+%R = 100 minus a small amount (<1%) of scatter. Blocking is not typically specified in dielectric dichroics, beamsplitters and mirrors. Exceptions include mirrors and beamsplitters containing metal films, which do absorb some fraction of the light.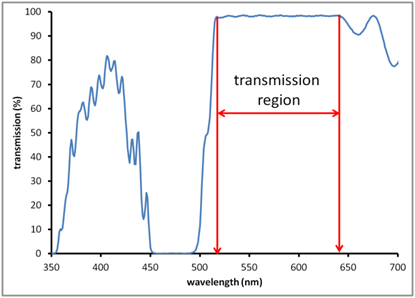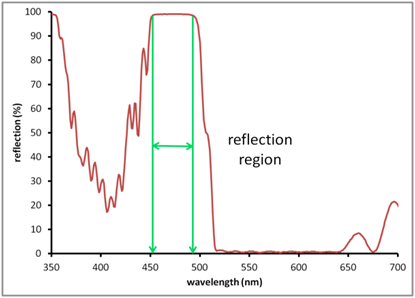 Angle-of-incidence (AOI) refers to the angle at which the primary ray strikes the optic with respect to the normal. A ray that is perpendicular to the surface has an AOI of zero. Spectral features of an interference stack (such as the cuton wavelength) shifts to lower wavelengths as the AOI increases, but that's not all. As the AOI approaches 45 degrees and higher, the polarization of the incoming beam comes into play. The s- and p-polarized light interact with the filter surface differently. The AOI-dependent wavelength shift varies with polarization, producing a "step" in the spectrum. This step can be minimized during the design process.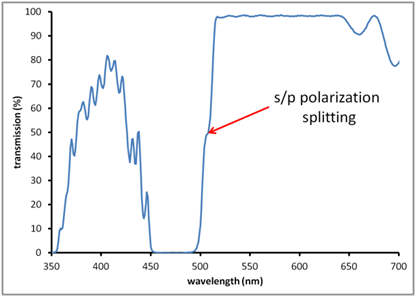 Longpass Dichroic 

These filters transmit longer wavelengths and reflect shorter wavelengths
They can be used for

beam combining - as in laser launches
fluorescence - excitation light is reflected towards the sample while the emitted light passes through
Raman (Stokes) where laser light is reflected towards the sample while Raman signal passes through

Customer specifies AOI, cutoff wavelength, transmission and reflection regions

Shortpass Dichroic

These filters reflect longer wavelengths and transmit shorter wavelengths
They can be used for

Multiphoton laser scanning confocal where the excitation laser is at much longer wavelengths than the emission
Second-harmonic imaging where the emitted light is at 1/2 the laser wavelength
Raman (anti-Stokes) where the signal is at a lower wavelength than the laser line

Customer specifies AOI, cuton wavelength, transmission and reflection regions

Multiband Dichroic

 

 

These mirrors have regions of reflection alternating with regions of transmission. The pictured example is a triple-band.
They can be used in systems with rapid laser (or LED) switching 
Customer specifies AOI and wavelength ranges

Neutral Beamsplitter

These filters are typically coated with a thin layer of metal so they are semi-transparent. A fraction of the light passes through while a fraction is reflected.
They can be used to combine and steer beams of many different wavelengths
Customer specifies transmission and reflection- these tend to be relatively flat in wavelength response and AOI independent

Dielectric Mirrors

Made with non-absorbing interference stacks, these mirrors provide very stable and rugged surfaces for use in humid or variable environmental conditions.
They can be used in

beam steering applications in instruments that undergo temperature/humidity cycling (PCR, microplate reader/incubators)
outdoor applications
astronomy

Customer specifies wavelength range for reflectance and AOI
Read more

Protected Metal Mirrors

Typically made of Silver or Aluminum protected with a dielectric coating
Less expensive than dielectric mirrors, but also less robust
These usually have low transmission and are used for beam steering
Customer specifies reflectance- these filters tend to be AOI-independent and relatively flat spectrally
Omega has produced limited quantities of these specialty items for individual customers. We welcome the opportunity to work with you on your product.
Patterned mirrors

The spot mirror can be an alternative to a dichroic filter if a laser is focused on the reflected portion
Also can be used to block the center of a field of view
Patterned mirrors are obtained by depositing through metal masks, or with photolithographic methods.

Transparent conductive oxides

 

 

Transparent conductive oxides (TCOs) offer a combination of visible transmission, infrared reflectance, and electrical conductivity.
The figures show two examples for indium tin oxide (ITO). The top figure shows the optical properties of highly conductive ITO, while the bottom figure shows the properties of less conductive ITO. The R&T curves and the electronic work function change as the alloy composition is varied.
Omega has developed several material systems for TCOs. Download the flyer here.
Applications include electrostatic control, heated windows, and photovoltaic research
They can also be used to extend the reflectivity of hot mirrors into the IR.