Our Inventory and Shipping Supervisor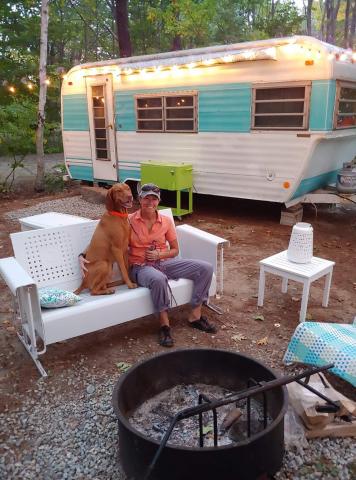 Happy December everyone! This month, we'd like to give a huge shoutout to Amy Balogh-Warner, our astounding Inventory and Shipping Supervisor. Amy brings energy and light into the office every day and tackles each assignment with an unmatched level of enthusiasm. She ensures our products are on their way on time and our materials are ready for production, all while keeping the office in high spirits. The diligence, passion, and determination that Amy brings to the workplace are exactly what we look for in an Omegian. So… let's get to know Amy!
What does a typical day as the Inventory and Shipping Supervisor look like?
My day is never the same but that's what I like about it. My day begins with looking at what the priority needs are for shop orders and then the day really begins. I might be cycle counting, receiving raw materials, or assisting our shipping team... or all three! Keeping our finished goods and raw materials inventory accurate is the main focus.
What led you to work at Omega Optical?
A friend suggested I check out the company. Frankly, I had no idea what Omega Optical was prior to my introduction and subsequent interview. My previous professional experiences have centered around operations, material management, and inventory control. I've worked the gamut from telecom to medical devices. It's not glamorous, but I love it.
Why did you choose to work at Omega Optical over other companies?
What I love about Omega Optical is that it's innovative and relatively diverse in knowledge. I wanted to work here because I felt like I'd learn about the industry. What is your favorite part about working at Omega Optical? My favorite part of Omega is our 'people'. The employees here care about what we produce. It's the passion for success that draws me.
What have you learned since working at Omega Optical?
EVERYTHING. I know my job but it's everything else that gets me out of bed in the mornings. New customers, new products, new designs, and new processes.
What has been your favorite project that you worked on at Omega Optical and why?
I haven't had a project per se but with our Purchasing guru, Stephanie, leaving, I learned the purchasing end of things. Taking on that role in the interim has been pretty challenging and a bit stressful at times but really enlightening too.
What is one fun memory you've made while working at Omega Optical?
Every day is a funny memory - mostly! We're all pretty friendly here so it's not uncommon to hear laughter in the midst of a feverishly busy day.
What is some advice you have for those pursuing a position in your field and/or at Omega Optical?
Don't be afraid to challenge yourself. Come work at Omega because it's challenging, fun, and forward-thinking!
What is your favorite activity to do outside of work?
It's no secret I'm a crazy dog lady. I show my Vizsla in conformation. But even above that, I love to hike with my family.
Thank you Amy for all your hard work and for letting us get to know you more! It was an absolute pleasure. Interested in working at Omega Optical? Check out our Careers Page or follow us on LinkedIn to learn more.