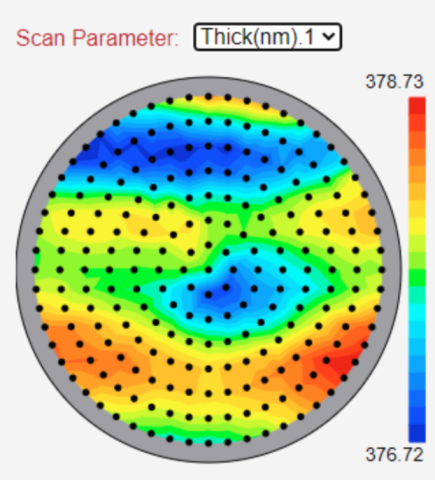 We have learned in previous blog posts about the importance of knowing the refractive indices and thicknesses of the layers we are making. The interference, that makes our filters work, depends on it! Read on to learn how we keep our processes up to snuff using ellipsometry.
Optical coatings are usually specified in terms of transmission and reflection as a function of wavelength, but unfortunately we don't get to determine these values arbitrarily.  Transmission and reflection are the byproducts of multiple layers and their thicknesses and properties.  The layer properties that are most important are known as n and k (the complex refractive index).  So how do you know exactly what the thickness, n and k of your films are?  Well the best way is with a variable angle spectroscopic ellipsometer, or VASE.  Because of its versatility, VASE instruments are common in research environments where new materials and processes are being developed. With a full spectrometer, it scans over a range of wavelengths which is relatively slow, but provides high precision measurements. It gives very good data, but is not suitable for a production environment.  Instead, Omega uses a much simpler and faster ellipsometer made for in-line monitoring of these parameters.
An ellipsometer measures a change in the polarization of a reflected beam at a non-normal angle of incidence. Wavelengths can be scanned (as in the VASE), or a series of discrete wavelengths can be used (as in our production tool). These measurements are used to calculate both refractive index and film thickness. The VASE systems can determine the thicknesses and indices of several layers in a multilayer stack simultaneously, while our production machine can accurately calculate parameters of one or two layers- enough to characterize coating system performance.
Omega's ellipsometer uses 4 different LEDs as light sources, which allows it to change wavelength very quickly.  It is also equipped with an R-θ type mapping stage which allows a map of n, k, and thickness over an entire 200mm substrate in 8 minutes.  This speed and ease of use allows Omega to continually measure our films and assess our processes to ensure that we're always making quality product and our coating machines are optimized.
By
John Barton and Sarah Locknar