Our HVP Production Coordinator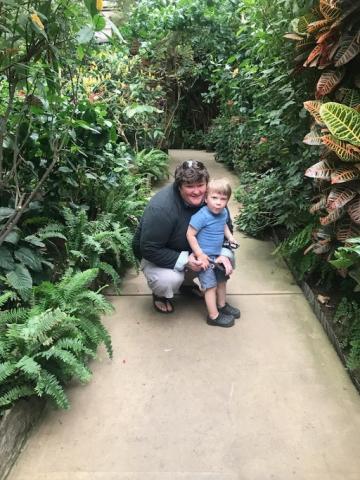 We are proud to announce our first Employee Spotlight - Abby Clarke!
Abby works as the High Volume Production (HVP) Coordinator here at Omega Optical and continues to impress our staff and customers. She was recommended for a spotlight by Bob Stillings and is highly spoken of by the entire staff. We are so excited for you to get to know her and to have her as a member of the Omega Optical family!
Without further ado, here is our Employee Spotlight Interview with Abby Clarke.
What does a typical day as the HVP Production Coordinator look like?
I am in the process of taking over the daily scheduling for the HVP Helios deposition chambers. Together, with the rest of the HVP team, we work diligently to ensure that jobs are completed on time and strive to produce the best quality product possible. I also work to ensure that performance variables are being measured and analyzed in order to mitigate issues and continuously improve. We also regularly review current practices and standard operating procedures to ensure that variation is limited in order to achieve consistent product outcomes.
What led you to working at Omega Optical?
Omega was one of few places in the area open - and hiring - during the COVID 19 Pandemic. I applied! I have an Associate's Degree in Engineering Science from Greenfield Community College and completed additional engineering & education coursework at Smith College. While in school, I accepted an internship working in the lab at Fulflex, Inc. – a rubber and plastics manufacturing company in Vermont. At the end of the internship, I was offered a full-time position as Quality Supervisor, which I accepted, and worked for 5 years supervising the lab, overseeing the customer complaint and CAPA programs, managing non-conforming products, and reporting quality metrics on a daily and monthly basis.
Why did you choose to work at Omega Optical over other companies?
Honestly, I was sold after my first conversation with Jennifer in HR. There was a really positive energy and feeling of ease throughout the conversation that stood out to me… I remember actually saying at one point on the phone that "it felt like it was meant to be." So far…it seems it was.
What is your favorite part about working at Omega Optical?
The people – super friendly, hard-working, and extremely knowledgeable. Good energy overall and a nice view from the parking as the sun rises in the early mornings.
What have you learned since working at Omega Optical?
I've learned too much to be able to write down in such a little space! It being my first job working in optics means that I am learning an immense number of new things each day. I am particularly enjoying learning the ins-and-outs of the Helios deposition chambers and am constantly working to absorb the physics behind it all. I also enjoy learning about the end-uses of our filters and the different products they are used in…It is all fascinating!
What has been your favorite project that you worked on at Omega Optical and why?
My favorite project is one that I am currently working on – which involves attempting to determine the best way to clean a difficult substrate in order to be able to run the product more efficiently and with improved quality results in the future. I have especially enjoyed the project because it has helped me to get to know different people in the company – all of whom have been generously willing to share their individual expertise in order to help work towards a solution that will benefit us all collectively in the long-term.
What is one fun memory you've made while working at Omega Optical?
Goose dodging around the oval all spring long.
What is some advice you have for those pursuing a position in your field and/or at Omega Optical?
During my walk-through interview - more than one person stated that "it was a great time to be joining Omega." Initially, I interpreted the comment as one of those canned responses employees are encouraged to say to prospective hires - to "woo" them. I accepted the job, and my experiences working at Omega to date have only proven the statement true. Omega is a responsible employer with an extremely knowledgeable and determined workforce – a testament to said workforce is that we are not just attempting to survive the Covid pandemic… but rather doing our best to thrive in it. I would advise anyone pursuing a position at omega to carry on pursuing it. I would encourage anyone who is not currently pursuing a position at Omega...to do so. The company is going places!
What is your favorite activity to do outside of work?
I like to spend my spare time building elaborate wooden "Thomas" train layouts with my 4-year old son and spending as much time with my immediate and extended family as possible.
Thank you Abby for all your hard work and enthusiasm. We are so happy we got to feature you as the blog's first Employee Spotlight.
Want to learn more about working for Omega Optical? Check out our recruitment flyer or contact us to see if Omega would be a good fit for you!
Subscribe now to stay in our orbit and get notified about November's Employee Spotlight.
By
Abby Clarke, Ashley Rollend