Exciting Changes to our Customization Process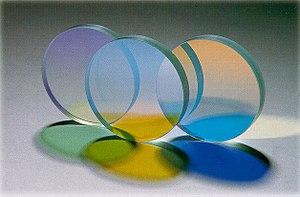 Omega Optical is always evolving - and so are our ordering processes. Our Build-A-Filter option has always been a staple in optic filter customization, but we are proud to announce that we've made some exciting changes to the BAF form. 
What's new with the Build-A-Filter Form?
New format

- the form is now separated into condensed blocks and is easier to interact with and read

Ability to specify Market and Application

- designing your filter's coating will be faster and more effective

Change to enter your specifications by Center Wavelength or Enter specifications by edges

- both will now be automatically calculated for better results

Grey and white question mark icons that have our standard specifications for that dimension

- these will appear when you are entering specifications to save you time and frustration 

Allow you to review the form before submitting 
How Will These Changes Affect Your Customization Process? 
These new changes were made based on the feedback we received from you - our customer base. We are happy to evolve to meet your needs and know that these changes will make working with Omega Optical better than ever before.
The new form will ensure you have the best Build-A-Filter experience. From start to finish, you should be able to specify exactly what you need with little interference. Once submitted, an Omega Team member will follow up with you regarding your request. We want to make sure that you are getting exactly what you need. At Omega Optical, we are working to erase errors before they can even be made!
You should use the Build-A-Filter form when you are submitting an order for a custom filter or customer filter set. The majority of our customizations run through this form, as it's the easiest place for customers to outline everything they need in one place. 
How To Best Utilize the New Build-A-Filter Form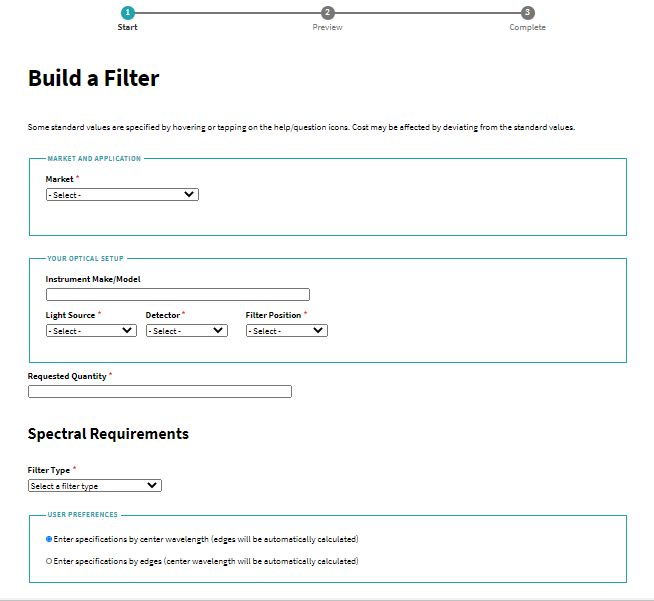 Let us walk you through the new process so you can see just how easy it is!
Select your market and application

If applicable, enter your instrument's make and model

Select the light source, detector type, and position of your filter, as well as the quantity you would like to purchase

Fill out the Spectral Requirements you need

Select the filter type, and your preferred method of entering specifications, by center wavelength or by edges 

Enter your center wavelength and tolerances in nanometers (standard tolerances are listed)

Enter your full-width half max bandwidth

In the blocking section, enter the desired Optical Density and Minimum/Blockings you required (you can also enter any additional blocking info here)

Enter the angle of incidence of the filter and your tolerance in degrees

If required, enter the cone half-angle specs and tolerance, or specify any additional spectral needs your filter might require

Scroll down to the dimensional requirements section, select your shape, and enter your desired dimensions

Enter the required thickness, your tolerances, and your desired edge treatment - you can also specify any additional requirements, or upload your spec sheet

Lastly, we move to the customer information section. 

If you have a reference number from a previous quote, please include it here.

Select your delivery speed

Add the name of the salesperson you might have been referred by, or who you would like to bring this to the attention of

Enter your personal contact information, don't forget to sign up for our newsletter, complete the captcha, and click submit
Once you've submitted the form, a member from the Omega Team will be in touch with you shortly. They may have additional questions regarding your filter request or want to follow up with the target lead time. We want to make the customization process as collaborative as possible and are proud to have such an experienced, educated team to assist you. 
We hope you like the new Build-A-Filter form. In the next few months, we plan to add additional features to further enhance your BAF experience. In the meantime, we'd love to know what you think! Send any feedback to baf@omegafilters.com, good or bad! 
By
Erin Hargraves, Calvin Gooley