Our Distributor Sales Account Manager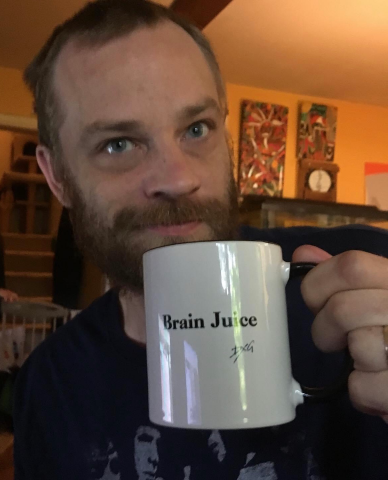 We're starting 2021 off right by spotlighting Iain Tweedy, our incredible and hilarious Distributor Sales Account Manager! Iain has been a longstanding fan favorite of the Omega Optical staff and a great asset to the team. Over the past fourteen years, he's made many great connections with customers and coworkers alike. His work with our distributor network has made it possible for us to help more international customers than ever before, by supporting different time zones and native languages. It's important to us that every customer has an enriching, effective, and rewarding experience working with Omega Optical. Thanks to employees like Iain, we're able to guarantee this. Let's turn back to him and learn more about his role here at Omega.
What does a typical day working as the Distributor Sales Account Manager look like?
I manage our group of international distributors, coordinating communication between their customers and our technical team to develop quotes that (hopefully) lead to orders. I also work with our marketing team to help provide Distributors with resources and promotional material to help the distributors explain our services.
What led you to work at Omega Optical?
I moved to Vermont after a couple of years of college and worked a season at Stratton Mountain and then briefly at Dunkin' Donuts. The life of a coffee merchant was not for me, so I applied for work through a placement agency and was hired by Omega as an administrative assistant for the sales department.
Why did you choose to work at Omega Optical over other companies?
They chose me!
What is your favorite part about working at Omega Optical?
I work with a lot of great people and the work is always interesting since photonics is such a dynamic field.
What have you learned since working at Omega Optical?
Primarily, a lot of science I might not have otherwise studied.
What has been your favorite project that you worked on at Omega Optical and why?
My current role in managing our Distributors has been a great learning experience, and in particular, working to develop a business plan to grow our relationships with our Distributors is my favorite on-going project.
What is one fun memory you've made while working at Omega Optical?
Traveling to Delhi, India for Laser World of Photonics in 2017 with Sheetal Chanda and his wife Prasanna was an amazing time. We were able to fit in a visit to the Taj Mahal in Agra, as well as the birthplace of Krishna located in the city of Mathura. The trade show was also very interesting as it was my first time as a "lead" at our booth.
What is some advice you have for those pursuing a position in your field and/or at Omega Optical?
Stay positive and be a good listener! Building good relationships is the key, and those two ingredients go a long way!
What is your favorite activity to do outside of work? I enjoy making music.
I play keyboards and I also cut samples and make beats.
Any final comments?
It's been a great 14 years working my way up to where I am today, and I look forward to continuing my growth and journey at Omega!
Thanks again Iain for being such a team player and letting us interview you! At Omega Optical, we pride ourselves on having such a close-knit team. Our staff members are motivated, innovative, and always up to collaborating with each other and our customers. Interested in joining the Omega team? Check out our current openings now or get in contact with us to learn more! We look forward to working with you.