Omega's Dedication to Quality and Competitive Pricing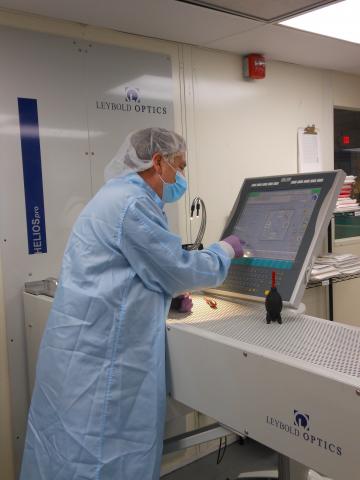 Interference filters are expensive primarily because there are a large number of competing requirements when manufacturing them. Most often, it is not a single parameter that moves the part from one camp to the other but instead a combination of requirements. On their own, these requirements don't create significant hurdles. In concert, however, these can result in difficult manufacturing processes, low yields, and high prices. There are two areas where challenges can occur, the manufacturing process and the filter's specification.
1. Making an abrupt transition from deep blocking to high transmission requires hundreds of interfering layers, requiring deposition times on the order of days.

Not only do long coating runs have a higher probability of failure, they also have a high consequence of that failure. Consider the impact of a system issue that aborts a coating 20 hours into the run and then requires new substrates followed by a rerun of the coating.

2. The portion of the coating run that simultaneously meets multiple requirements (transmission, blocking, transition slope, surface, and cosmetic requirements, etc) can be low, reducing the yield and driving up the price.

This is because the coating performance must thread the needle between the blocking and transmission requirements and because every coating deposition shows some level of spectral non-uniformity across the coated surface.
With this in mind, let's take a look at some of the specifications that can contribute to a high filter price.
1. Surface Quality and Dimension

Since there will always be some level of mechanical imperfections in any coating process, a very tight surface quality specification will disqualify some portion of the coated material. This limitation can be dealt with by coating oversized plates and then avoiding the imperfections when configuring the material down to the final size. These oversized plates can also cause an increased price. If, however, the final size is particularly large, the number of parts that can be cut while avoiding the imperfections can be very low. In the extreme, there may be no parts that can be produced from a plate.

2. Aspect Ratio and Coating Specification

The aspect ratio is the ratio of the longest surface dimension to the thickness. The difficulty in producing a precision substrate increases significantly when the aspect ratio surpasses 6:1. The addition of a thick an optical coating compounds the difficulty. Coating stress will deform a substrate. Thicker coatings inherently introduce more stress. While design steps can be taken to mitigate this stress, it is extremely difficult to eliminate it entirely. If a thick optical coating is applied to a thin substrate, the resulting deformation will be extreme. Deep blocking over an extended range or an abrupt transition from rejection to transmission requires a thick coating. These spectral requirements on a large thin part combined with a stringent flatness requirement will be nearly impossible to achieve.

3. Tight Tolerance

Tight spectral tolerances will limit yield. Something to remember is that in optical coatings everything scales with wavelength. The thin-film design that produces a 10nm wide passband in the mid visible, will give a 30nm wide band in the near IR. Similarly, spectral non-uniformity across a coated surface also scales with wavelength. A well-tuned coating chamber can be expected to yield less than 1% spectral variation across a 200mm plate. In the visible, this amounts to a few Angstroms over a 1" part. Consequently, a spectral tolerance of less than a nanometer on a small part in the visible is tight but achievable. If, however, the part is large or it is at a long wavelength, the difficult tolerance can become unachievable, or at best extremely expensive.
In optical thin films, nearly anything can be accomplished given enough time and money. Given that neither of these is in infinite supply, it's wise to consider not only the impact of any requirement , but also the interaction between all the requirements.
By
M. Ziter, B. Johnson, S. Locknar