PCR is a technique commonly used to analyze small amounts of genetic material from a variety of sources. 
Step 1- the isolation of single-stranded DNA (ssDNA)
1a. RT-PCR begins with an RNA sample which, after purification needs to be transcribed into DNA. This is accomplished with Reverse Transcriptase to generate cDNA (complementary DNA).
1b. PCR begins with a purified double-stranded (ds) DNA sample
1c. The RNA/cDNA or dsDNA is heated to generate ssDNA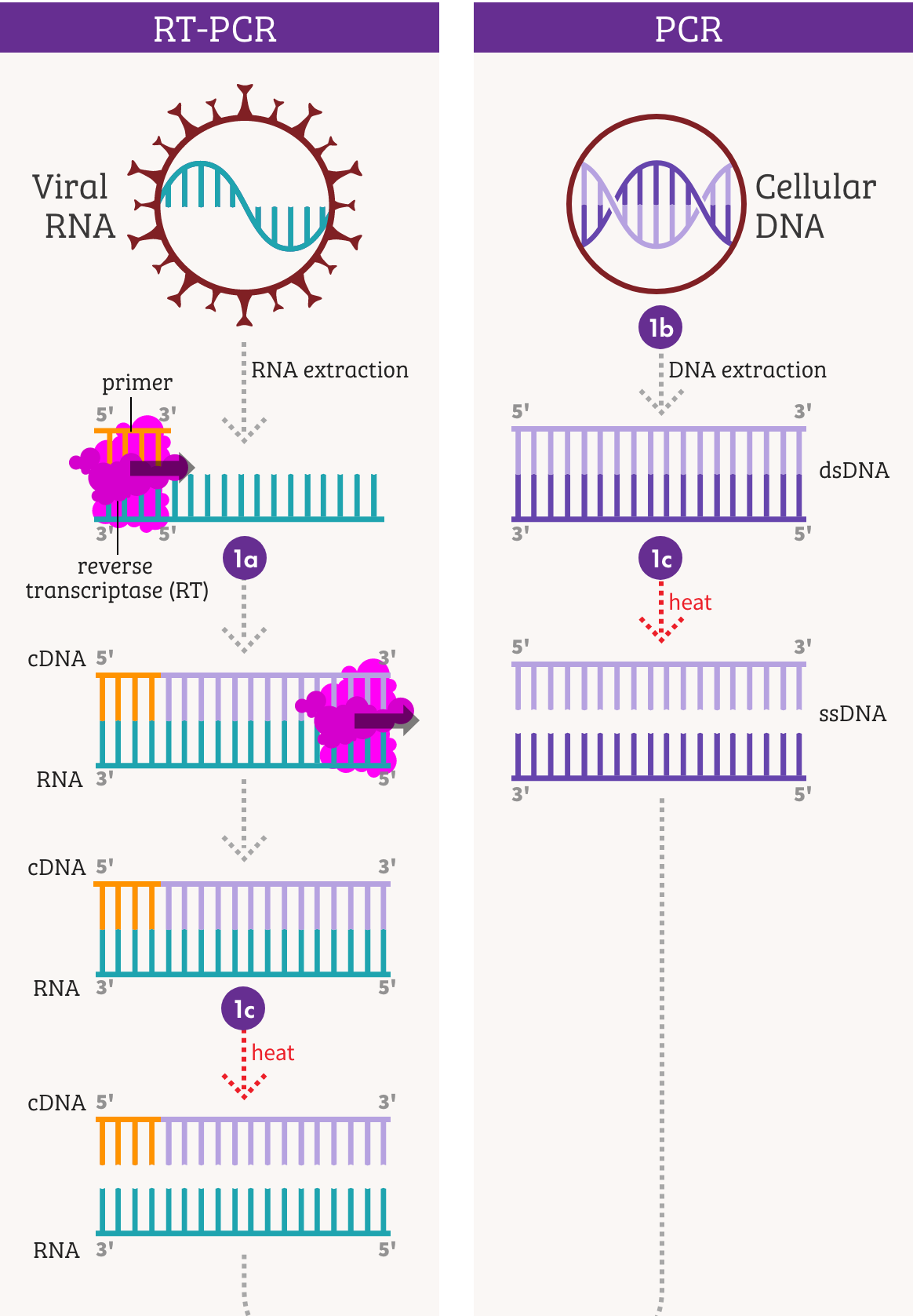 Step 2- the ssDNA enters the polymerase chain reaction cycle (PCR). This reaction uses a heat-stable DNA-polymerase (TAQ-polymerase) to replicate the ssDNA chain.
Specific primers (short ssDNA strands) help the DNA-polymerase to bind and restrict which DNA sequences are replicated
Step 3- dsDNA is heated and ssDNA is regenerated
Step 4- cool-down and primer/ probe binding
The ssDNA and primers or probes (described below) bind and the cycle continues. Each ssDNA is replicated, so the number of copies increases by a factor of 2 during each round of PCR. The amount of DNA is determined with fluorescent probes (below).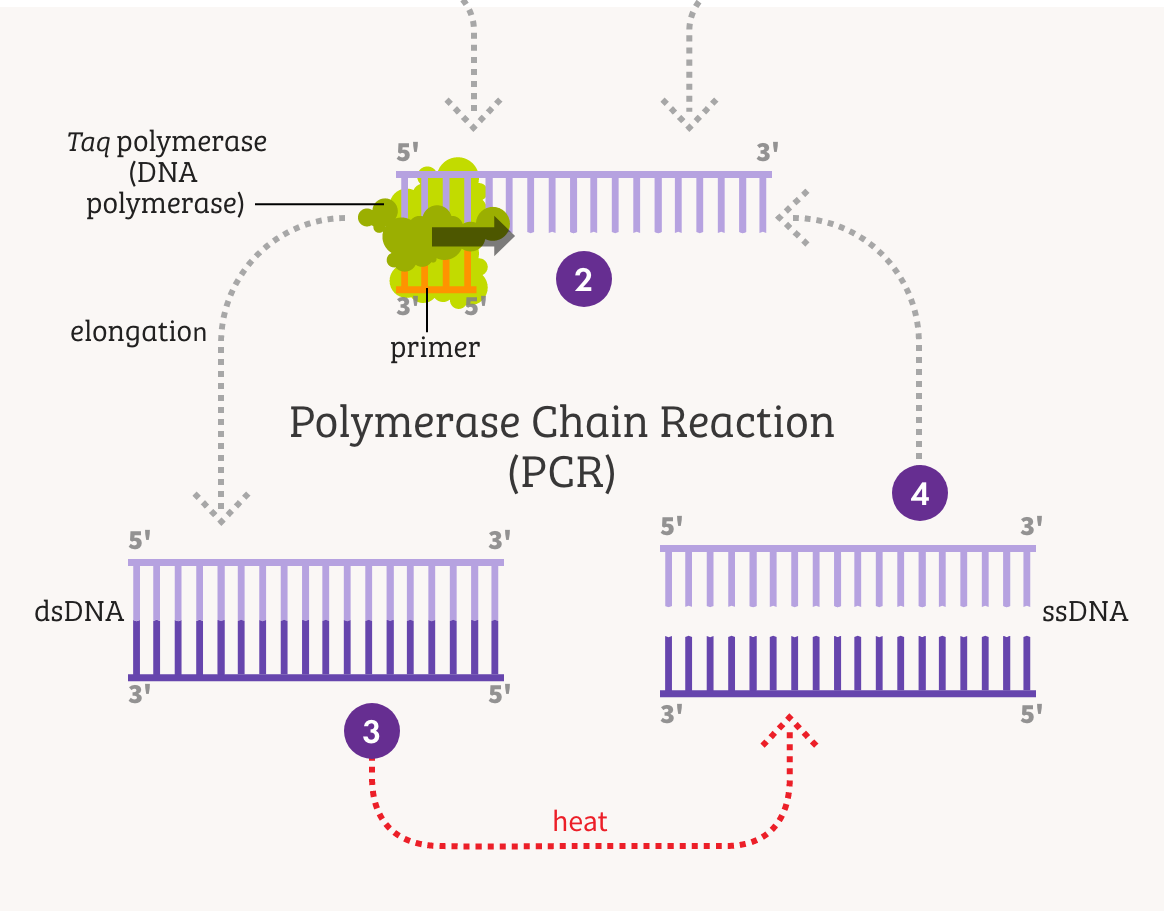 Fluorescent Probes in PCR
SYBR Green
dsDNA intercalator- Intercalators squeeze in between base pairs in the double-stranded DNA without physically binding- they are non-specific
fluorescent when bound to dsDNA
detects total dsDNA in the sample (between steps 2 & 3 above)

cDNA Probes
These short ssDNA sequences (probes) specifically bind a particular sequence of ssDNA in the sample. They contain a fluorescent moiety and a quencher on the same oligonucleotide. When the quencher and fluorescent moiety are close together, there is no fluorescence. More than one sequence can be probed by using two different fluorescence moieties.
TAQman (Roche, Thermo)
The intact probe is not fluorescent because of quenching.
The probe strongly and specifically binds sample ssDNA during step 4.
TAQ-polymerase is used as the DNA-polymerase in step 2
When TAQ-polymerase meets the bound probe, it begins removing nucleic acids from the probe (endonuclease.
The fluorescent moiety is released by the TAQ-polymerase and signal increases
Fluorescence is proportional to the amount of probe-specific ssDNA in the sample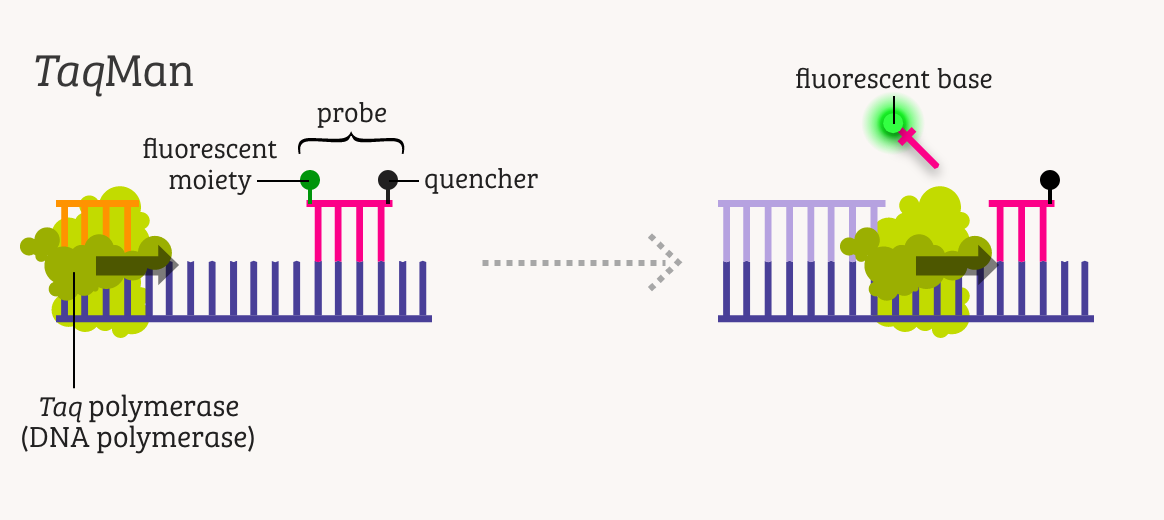 Molecular Beacon (The Public Health Research Institute, City of New York, Inc.)
The free, intact probe is hairpin shaped and non-fluorescent because of quenching.
The probe specifically binds to ssDNA during step 4 and becomes fluorescent.
Fluorescence is proportional to the amount of probe-specific ssDNA in the sample.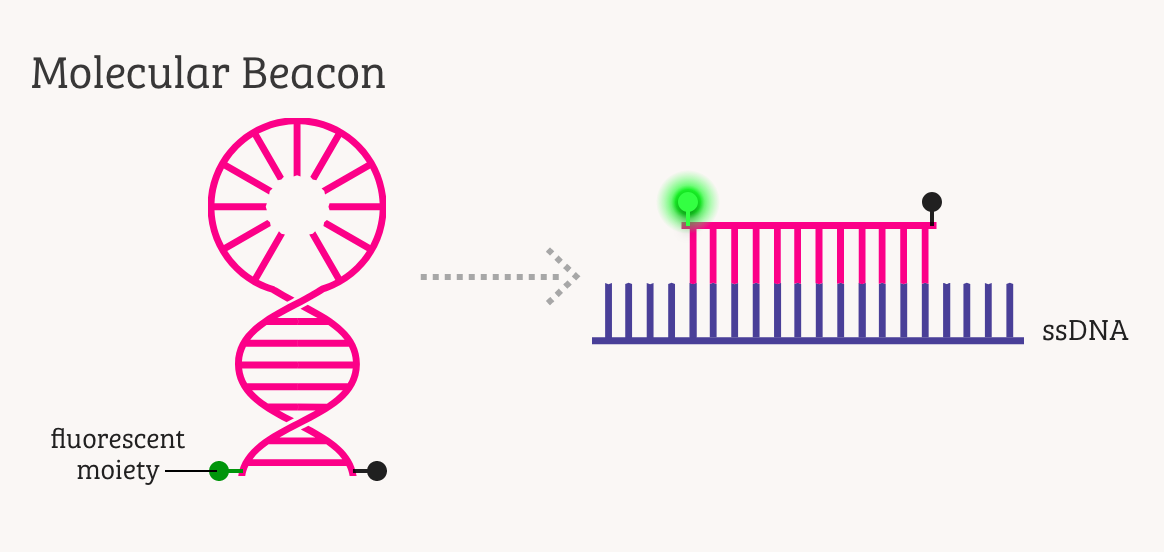 Scorpion Probes (DxS Limited)
Combines the functions of molecular beacon and a primer.
The molecular beacon portion of the probe remains coiled and non-fluorescent as the target ssDNA is replicated by TAQ-polymerase (in step 2)
The beacon unwinds and binds to the newly formed ssDNA during the heating phase in step 3 and becomes fluorescent
Fluorescence is proportional to the amount of probe-specific ssDNA in the sample