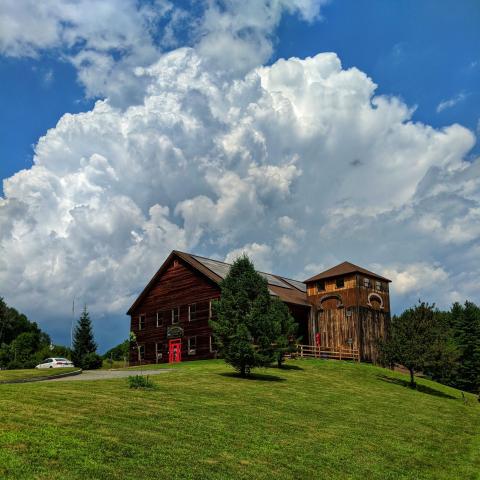 We've been cited more than a hundred times in papers, published dozens ourselves, and contributed to the optic conversation for over fifty years - what's stopping us from starting a blog?
Nothing. Not anymore.
Welcome to Omega Optical's first blog post. Welcome to Behind the Science. 
Omega Optical is proud to announce the development of a regularly updated company blog. From application spotlights to personnel interviews, our blog comes as the result of countless hours spent assisting what YOU - our incredible customer base - need. 
Want to put a face to the person manufacturing your fluorescence set? We've got you covered. 
Excited to learn more about a new bandpass filter that's just been developed? Look no further. 
What to Expect - Blog Content 
The central content types will be;
Application Spotlights 

News and Events

Employee Introductions

Customer Projects 

And Industry Updates 
We have so much exciting content planned and are ready to bring you a blog that adapts with the industry, the world, and our customer's needs. We cannot wait to hear your feedback and to use this opportunity to generate stronger bonds and relations with our customers. We want to talk to you. Learn from you. Grow with you. 
Do you have a topic you want the Omega Optical blog to cover? Let us know!
Did you create an amazing graphic you think would benefit a post? Send it our way!
At Omega Optical, we believe collaboration is the cornerstone of innovation. We appreciate any insight you are willing to give us. At the same time, we are very grateful for the talented, diverse team of writers who will be running Behind the Science. 
So… let's meet them!
Introducing the Team - Our Blog Contributors
From award-winning engineers to professional content creators, the staff we've chosen to write Behind the Science are ready to welcome you into the exciting world of optics. We could not be more excited to start this journey with you. 
After finishing a double major in Biology and Chemistry at Butler University in Indianapolis, Sarah Locknar received her Ph.D. in Physical Chemistry from Carnegie Mellon University, & later served as the Director for the Center of Biomedical Research Excellence in Neuroscience at the University of Vermont. This multi-user facility contained several fluorescence microscopy systems including epifluorescence, deconvolution, confocal, multiphoton, TIRF and fast ratio-metric ion imaging. In the R&D department at Omega, Sarah has contributed to research in thin-film solar cell development, new materials development, and a fiber-based multispectral confocal scanning system. A spectroscopist by training, she has been instrumental in setting up test equipment for wavefront sensing and angle-dependent laser measurements and is the co-author on many of Omega's papers. As the product manager for fluorescence microscopy and flow-cytometry filters, Sarah is in-the-know when it comes to optics.
Hannah Moss is a Marketing Analyst at Omega Optical. She graduated from Keene State in 2020 with a bachelor's degree in Management with a specialization in Marketing as well as a bachelor's in Economics. Hannah has been working with Omega Optical since 2019 and has assisted in analyzing marketing data through dashboards as well as analyzing top part numbers sold by Omega Optical. When Hannah is not at work she enjoys cooking, photography, and hiking. 
Bob Mann is the VP of Sales, Marketing, and QA at Omega Optical. He received his BS at Princeton University, where he studied Mechanical and Aerospace Engineering with a concentration in product development. Bob has many duties in the office – from managing the sales and marketing groups to assisting with large-scale deals – such as the Artemis partnership.  He is passionate about resolving customer needs and building optical systems that exceed expectations. In his free time, Bob enjoys hockey, playing bass, and spending time with his family.
We will be introducing more of Omega's Team in the coming months through employee spotlights and other posts! 
We hope you are as excited as we are about Behind the Science: The Omega Optical Blog. It's going to be incredible! 
Subscribe and share this post now to let others know you're staying in our orbit!