Our Exceptional Development Process and Supplier Capabilities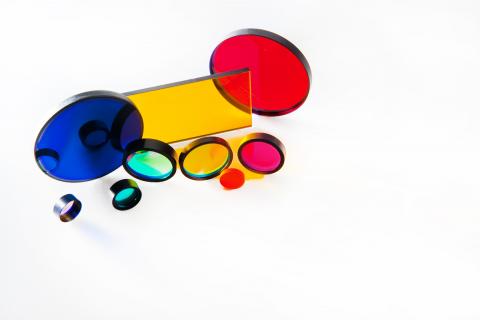 Working with Omega - Our Customer Process
Working with Omega is easier and more effective than ever before. After over fifty years of being in business, Omega Optical has perfected our customer process to ensure that every need is anticipated and exceeded. The graphic below outlines each step - from ideas to final product, we've got you covered.
Our process was designed with the customer in mind and has proven successful. We pride ourselves on always being available to the customer. Are you unsure what coating would work best for your project? We're on it! Just shoot our engineering team an email and they'd be more than happy to help. Did your prototype not function as it was supposed to? No problem! We'll schedule a conference call to make sure that everything goes seamlessly the next time around. Omega Optical wants to make sure that purchasing a filter is as stress-free as possible.
How Omega Optical Fits into Each Level of the Development Process
Ideation
Our Engineering and R&D Team can answer any optical filter questions while in the ideation stage. Let's make sure we have the optimum filter layout for your system needs. We want to make sure the filter design offers the best combination of price and performance for your application.
Prototyping and Small Custom Run
Omega's extensive inventory of custom filters is perfect for low-cost prototyping and proof of concept. Once the specifications are nailed down, we can move onto a small custom run to ensure a smooth production process in the High Volume Production stage.
High Volume Production
Omega's innovation and machine capacity allow us to do custom runs cost-effectively at a high volume. This will reduce issues within your supply chain because we already know how to produce the filter; why go somewhere else?
Continuous Improvement
As technology changes and new practices develop, we promise to share ideas on how to continually improve the custom filter design and the manufacturing process to optimize for price and performance. We think our customers will have an experience unique to the industry and will continue to work on new projects with us.
We're happy to serve you at all stages of the product life cycle - from prototype to production, Omega is there for you. Omega's customer process alone makes us a great company to work with - but what are some other reasons you should choose us as a supplier?
Why Choose Omega Optical as your Optics Supplier?
50+ years of engineering services to optimize your filter!
Supply from Prototype to Production Custom and Standard Filters
Ability to produce Hard Coating and Protected Coating- we can provide a cost-effective filter!
Onsite optics shop for custom configuring
ISO 9001:2015 certified and ITAR Registered
Fit seamlessly in each level of the product life cycle
All this and more make Omega a top-tier supplier.
Different Ways to Order From Us
Omega Optical wants to make ordering filters as easy as possible - which is why we offer many different ways to order from us. Our end goal is that you get your product as fast as possible, without sacrificing the quality or integrity of the filter. So, what are these different ordering methods we offer?
Build-A-Filter- BAF is perfect for a quote request to find a filter or begin the quoting process.
Rapid Solutions- Contact sales to pull inventory from our rapid solutions department. Filters out of our Rapid Solutions department are perfect for low-cost proof of concept or rapid prototyping.
Talk to a Sales Representative + Engineer directly - Email or Call our sales department to discuss your project and filter requirements to get the quoting process started.
eCommerce- Check our eCommerce store for standard products we keep stock of in small quantities.
Omega Optical is ready to be your optics supplier. Contact us today!