How to Decide if OEM Parts, Stock Parts, or Rapid Solutions Best Fit Your Needs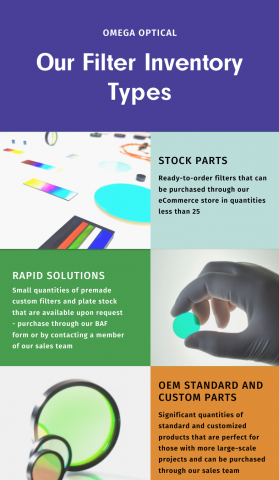 Trusted for over fifty years, Omega Optical has developed a comprehensive inventory management system that makes sure your filter needs are met. By offering our customers the ability to purchase through eCommerce, Rapid Solution,, and our sales team, we've ensured that you'll receive the correct parts on time and at the most economical price on the market. Quality has always been a guarantee at Omega Optical, and thanks to our updated inventory system, so is efficiency.
Interested in hearing more about how we organize and produce our major inventory types? Read on to learn more about each category and why, when, and how to purchase these products.
Stock Parts
Stock parts can be purchased through our eCommerce store. There, you'll find a variety of products, from bandpass filters to fluorescence sets. The inventory listed here is vast, ready to order, and perfect if you're looking for a part in a standard size. If you are interested in one of our stock parts and want to customize it to better fit your needs, all you'll have to do is click on the 'Request a Quote' button at the bottom of the page. We'll be happy to review your customization and get back to you as soon as possible!
The best way to purchase stock parts is through our website, using the eCommerce store to do is locate the stock part you like, add it to your cart, and check out! We've recently added the ability to order up to twenty-five of a single filter on our online store. Customers can also use Build-A-Filter to search our eCommerce inventory of bandpass filters. This inventory type typically allows for the quickest processing time and is great for those who know what they want and need it ASAP!

How else can we improve your eCommerce experience? Submit your suggestions through our contact form and let us know! Here at Omega Optical, we are always looking to improve our customer experience in whatever ways possible.
Rapid Solutions
Rapid Solutions are small quantities of premade custom filters and plate stock that are ready on demand. We carry an expansive inventory of different types of products, from bandpass filters to mirrors, and carefully outline each specification so you know that you're purchasing the correct customization. We recommend exploring this inventory type if you're looking to prototype or do proof of concept work! The filters under Rapid Solutions are limited in quantity but exceptional in quality, so make sure you snag your filter fast! Once we sell out of that type of filter in RS, it's gone for good! The great news is, if this were to happen, we can design a custom filter that is optimized for your application and meets the specification of your RS part.
We recommend that you purchase Rapid Solutions filters through the Build-A-Filter (BAF) form or through our sales department. Our sales representative will work with you to provide the filter that best fits your needs. We are always adding more of our RS inventory to the eCommerce store, so make sure you keep an eye out!
OEM Standard and Custom Parts
Interested in purchasing more than twenty-five of a single optical filter? Then check out our OEM standard and custom parts inventory! Here, we supply significant quantities of standard and customized products that are perfect for those with more large-scale projects. If you're looking to purchase a stock or custom part in large quantities, all you'll have to do is contact our sales team and they will personally handle your order. Each member of our sales team is well-versed and eager to assist you in whatever way necessary. They'll work closely with you and our engineering team to develop a filter that is optimized for your application – and at an excellent price! Check out our previous blog 'Omega's Supply to Product Life Cycle' to learn more about how we work with our OEM customers and for a few reasons why to choose us as a supplier!
Pricing + Cost Drivers
Pricing between these three inventory types can differ significantly due to the variance in planning, production, and shipping costs. Additionally, these filters may have specific, demanding requirements that could play a major part in its pricing. These specifications are necessary in order to guarantee the needs of the application are met and include optical, environmental, and physical considerations. Such specifications could include the coating type, shape, surface quality, and more. Interested in how we outline these specifications and determine pricing? Take a look at our Filter Specification + Cost Drivers flyer or contact a salesperson today!
We are proud of our diverse inventory and look forward to continually evolving our processes and systems to better meet your needs in 2021. It is important to us here at Omega Optical that we can assist and fulfill the projects that best fit our capabilities and believe this updated inventory system will help us better align with that goal. We welcome you to share any thoughts or feedback you might have and hope that this post makes your customer experience with Omega Optical better than ever before!
By
Ashley Rollend, Erin Hartgraves