Barrier or edge filters transmit only above or below a certain "cut-on" or "cut-off" wavelength and continue to transmit over a wide spectral range. These filters can be designed for use in reflection or transmission mode. Theycan also be combined in a single assembly to form a band-pass filter (as in RapidBands).
Relevant Specifications-
Cut-On/Cut-Off Edge—the wavelength of the edge at 50% of the maximum transmission of the filter.
Edge Steepness—the slope of the edge between reflection and transmission.
Reflection Range—the spectral region in which the filter does not transmit.
Cut-On/Cut-Off Steepness Factor

The lowest cut-on steepness factors indicate the steepest cut-on edge.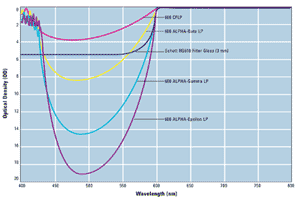 Spectral Curves of Longpass Filters. A comparison of theoretical longpass filters including CF, absorption glass, and ALPHA designs at normal incidence (0°). They all have a similar cut-on wavelength at approximately 600nm.