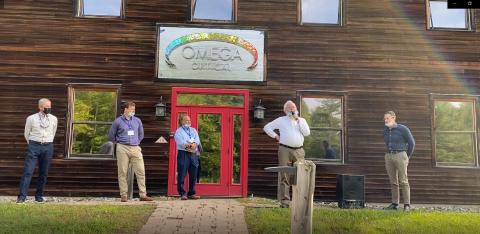 Omega Optical Expands to Better Meet Your Needs
At Omega Optical, we are always ready for the next big thing. From technological to manufacturing to business endeavors, we've kept our ear to the ground for the past fifty years - consistently acting in the interest of our incredible customer base. On August 27th, 2020, we entered a new era of Omega Optical. Artemis Capital Partners of Boston, MA (artemislp.com) acquired a controlling interest of Omega Optical, Inc., of Brattleboro, VT (omegafilters.com).
For 50 years, Omega Optical has been 100% owned by our founder, Bob Johnson. Mr. Johnson will stay with the new company as Technical Director, as will all the employees. Our new capital partner will enable Omega to make investments in people, equipment, and systems. Together, Omega and Artemis have made a promise to improve our quality and delivery commitments to customers like you.
Over the last 50 years, we've designed over 100,000 custom filters and delivered more than 30 million. We've advanced old technologies and adopted new ones. We've dared to think outside the box, question everything, and always work with the customer in mind. But with Artemis now a part of the Omega Optical team, we're ready to take the next step. We're proud of the last fifty years, but are even more excited for the years to come.
Our Promise to Better Serve Our Customers, Big and Small
Well into our 100-day plan with Artemis, we would like to assure our customers that our plans revolve around investing in and growing with you. We will focus more on coatings and filters that we are well equipped to take on and be honest about those in which we are not. This new policy will benefit all our customers. When we stretch too far on a job, it often creates manufacturing challenges that not only impact that particular job, but also those for our other customers. Going forward, we vow to let our customers know up front when we can help them and when they might be better served with another supplier. Rest assured, we will still take on difficult challenges but, when doing so, we will better communicate any uncertainties of success.
By
T. Smith, B. Mann, A. Rollend