Bandpass filters transmit light only within a spectral region ranging from less than one to hundreds of nanometers wide. They are used in a wide variety of applications where spectral isolation is required. 
Products
VIS Bandpass (400 - 700 nm)

IR Bandpass (700 nm- 10 micron)

Multiband filters (dual-, triple-, quadruple-bandpass)

NarrowBand filters (< 2 nm FWHM)
Filter Description
Bandpass filters are defined by three critical features:
Center Wavelength (CWL)—the wavelength at the center of the passband
Full Width at Half Maximum (FWHM)—the bandwidth at 50% of the maximum transmission
Peak Transmission (T)—the wavelength of maximum transmission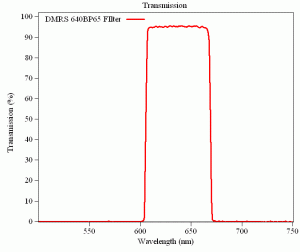 Bandpass Shape and Near Out-of-Band Attenuation
The CWL and FWHM of a bandpass filter are determined by the materials used and their refractive index, as well as the number of layers within each Fabry-Perot cavity. The shape and degree of attenuation (OD) outside the passband are determined primarily by the number of Fabry-Perot cavities. As shown below, it is possible to have two bandpass filters with exactly the same specified CWL and FWHM, but with very different passband shapes and OD levels.

Figure 2: Fabry-Perot Bandpass Designs. The theoretical spectral curves of six different bandpass filter designs with a CWL at 500nm and a FWHM of 15nm. Attenuation increases with the number of cavities.
The "squareness" of the bandpass, or edge steepness, increases with the number of Fabry-Perot cavities as illustrated below. As more cavites are used and the bandshape becomes more square, the spectral width at 90% T and 10% T converge while the FWHM value remains relatively unaffected.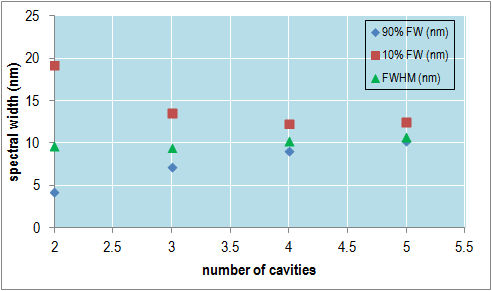 Figure 3- Edge steepness as a function of the number of cavities in the Bandpass design. As the number of cavities increases, the bandpass becomes more rectangular in shape, with a flat top and very steep sides. Steepness can be measured by comparing the width near peak transmission and at 10% transmission. With a vertical edge, these values will be the same.